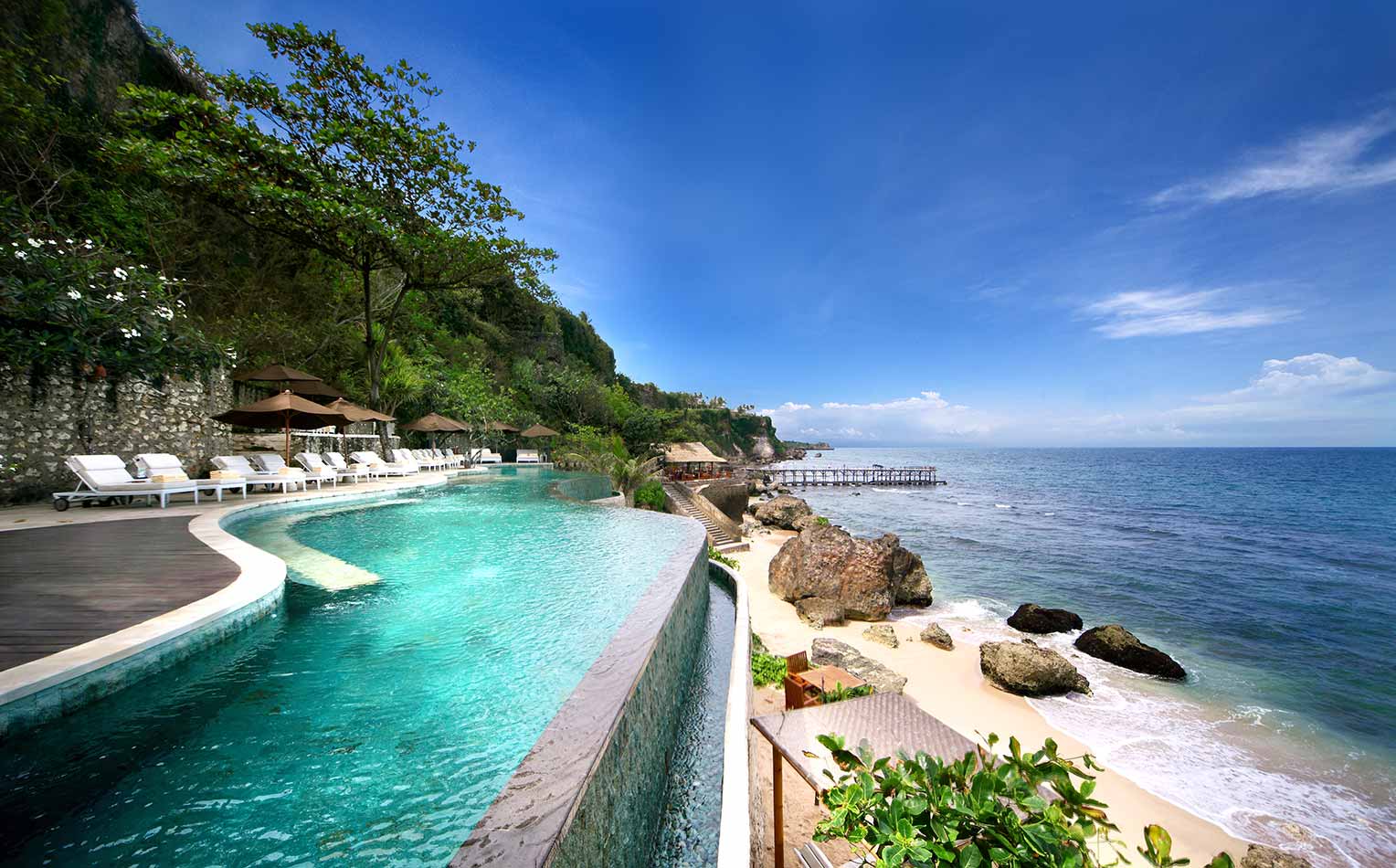 This breath-taking property overlooks the Jimbaran Bay and gives every guest a true Balinese experience.
Arriving at the RIMBA Jimbaran Bali was like stepping into a dreamy tropical fairy tale. Adorned with the most beautiful flower necklace and delicious welcome drink
"We were immediately refreshed, relaxed and energized."
Our stay was met with exceptionally friendly, warm and attentive staff, which provided a great sense of care and hospitality that Bali has become famous for.  Imagine our delight at our towels being magically transformed into gorgeous animated jungle animals… a touch of humour is always good for the soul!
If the luxurious and spacious rooms were not enough… we were totally captivated by the heavenly views stretched out from our honeymoon abode. Forested oceanfront and sunset horizons set the tone for a surreal travel experience.
"A culinary gold mine"
We were spoilt for choice by collection of unique on-site restaurants… seventeen to be exact! Our favourite was the Rock Bar, superbly situated on the rocks serving up the freshest seafood and cocktails. The immaculate beach was rivalled by eleven sparkling swimming pools dotted around the resort, but we preferred the sand between our toes for this romantic time away.
The resort has a secluded white sand beach, 11 swimming pools, an 18-hole putting course and an award-winning spa, Thermes Marins Bali. It offers a truly relaxing experience for anyone who wants to get away from the everyday hustle and bustle of life.
"A magnificent resort, a paradise within paradise."
The RIMBA Jimbaran Bali is uniquely positioned inside the Ayana Resort and Spa
The Breath taking views across Jimbaran Bay guarantee a holiday experience of a lifetime.
Guest : Jana Stoman (World Luxury Hotel Awards Representative)
www.rimbajimbaran.com.  Reservations can be made through the hotel at booking@rimbajimbaran.com.