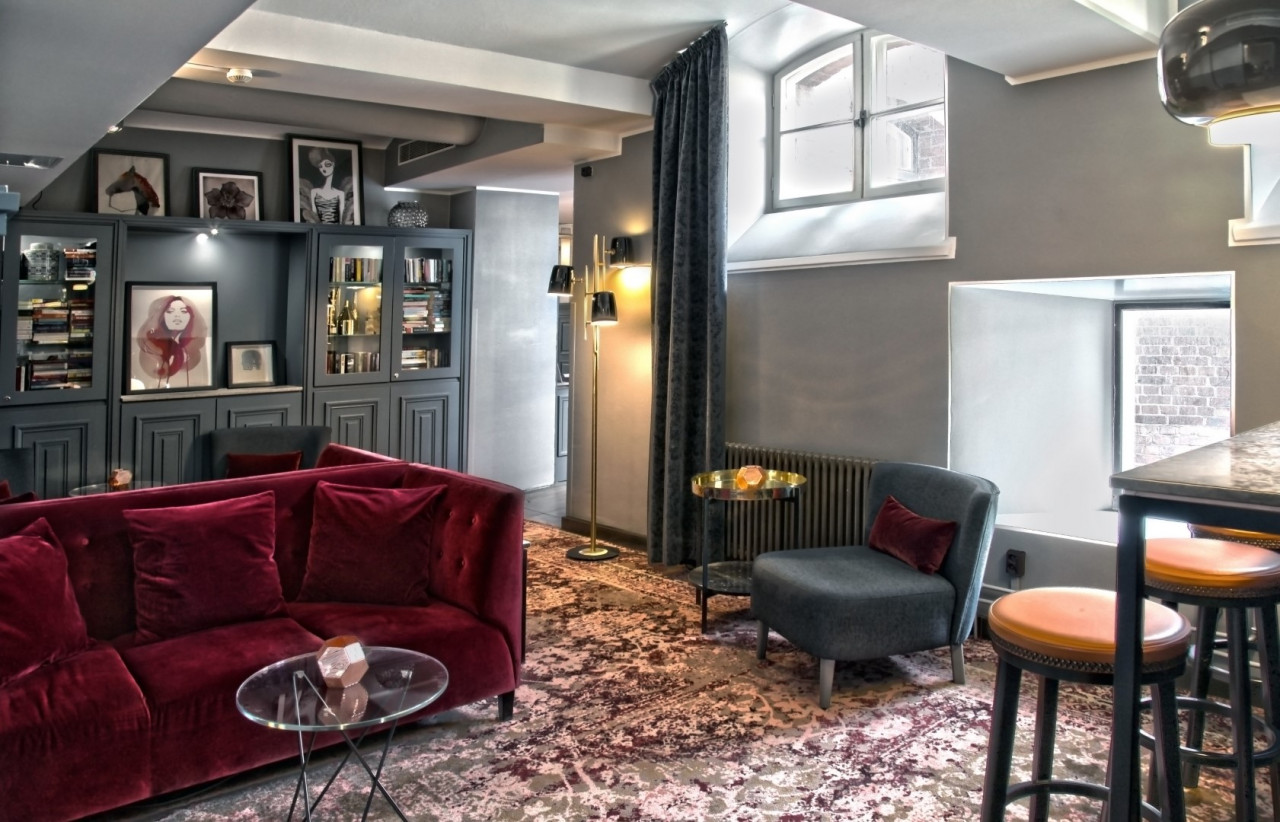 Hotel Katajanokka is a rather comfortable prison and one of the most uniqe hotel's I have ever visited. Before it was converted into Hotel Katajanokka, it was literally the old prison of Helsinki. A new prison was built and the decision was made to renovate and recreate the old prison into Hotel Katajanokka.
The beauty of the hotel is almost hidden behind the perimeter wall, but once you enter the gates the scope of this hotel with its rich history comes into full view. Walking in the front door is not at all what you would expect from a prison. No metal gates, no bars and no prison guards taking your belongings and putting you in handcuffs. Instead, you get modern automated glass doors, friendly welcomes from the staff and someone willing to take your bags to your "cell".
Walking down hotel hallways between rooms that used to be the cells where the prisoners were kept, you almost get the feeling of being in an episode of Prison Break. The rooms are comfortable in size; defnitely not as small as the cells used to be. They broke through the walls and converted 3 or 4 cells into one lovely room with a modern bathroom and enough space for a large bed and dressing table. The rooms still have the original small windows with views into the yard. The decor was stylish with old prison locks and images framed above the bed; reminding us of the unique history of Hotel Katajanokka.
The hotel has also kept an isolation cell in the exact condition it used to be when it was still a prison. So if you like, you can go down and lock your friends up or take some awesome pictures. Another feature is the group holding cell. This is basically a small, dark cave in the foundation of the building that was used to hold large groups of people. I must admit it was quite eery exploring these rooms, but also very intresting. These original cells and many more features of the Hotel Katajanokka are now being used for treasure hunts and team building exercises where you will be given clues hidden inside the dark and scary cells. This to me is an amazing way of sharing the rich history of the hotel with the public.
Hotel Katajanokka also has a gym. You are able to do great workouts in the small but well thought out gym with top of the range equipment. They have everything you need and more for all your workout needs during your stay.
The restaurant is just as impressive. With amazing food and a warm and entertaining atmosphere you find yourself sitting around the table laughing and cracking jokes with the friendly waiters for much longer than you initially intended. If you ever find yourself in this particular prison kitchen, I do recommend the burgers!
Breakfast at Hotel Katajanokka is really amazing. No matter where you are from, you will find exactly what you want at this buffet breakfast. There is even an ipad that controls the juice fountain.
Hotel Katajanokka has exceeded all my expectations. I really loved staying here, but one thing stands out to me above all. The staff. Especially the front desk staff. On our last day in Helsinki our flight left early in the morning which meant we would have a really early checkout before breakfast was available. In most hotels if you put in a request the previous evening, they will give you a yoghurt or some fruit the next morning just to keep you going.
Not at Hotel Katajanokka; here Taija who was on duty told us to come down 30min before we needed to leave so we can eat something. When we got to the reception early in the morning, she had bars and fruit waiting for us. There were also smoothies and shakes. And as if that's not enough, she offered us coffee and tea and then she told us to have a seat while she fixed us some oats. This is unbelievable. Never have I experienced a front desk staff member at a hotel going through so much effort to make sure we do not leave with an empty stomach. Thank you! This was really appreciated!
In conclusion, Prison Break is a TV series where some inmates desperately tried to break out of prison. However, here you will find yourself willing to do anything just to stay a little longer at this stylish and unique hotel.
Reviewed by World Luxury Awards Executive Manager Tanique Echardt
To book a stay at this unique and stunning property follow the link :www.hotelkatajanokka.fi