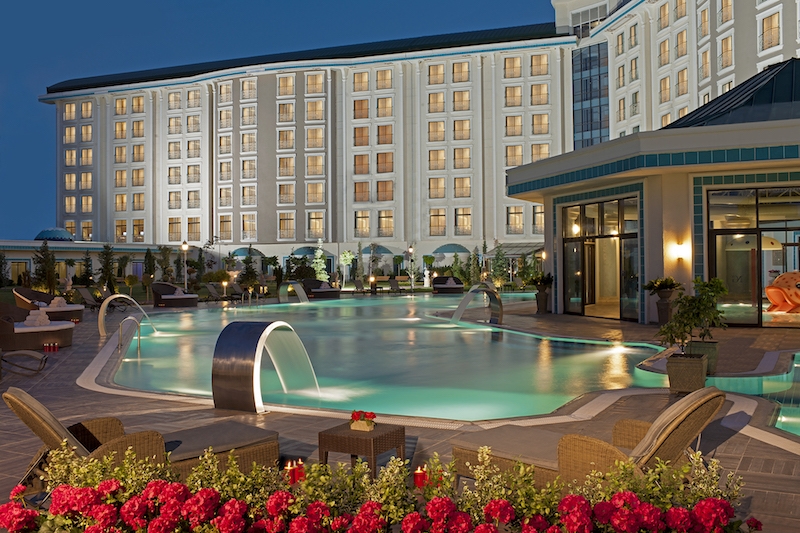 NG Afyon is quite literally an oasis in the dessert – a welcome retreat with enticing pools, gardens and luxurious delicacies!
The region is famous for the number of hot springs that burst through the earth's surface and NG Afyon certainly showcases this in a unique way. With no small number of different pools, at different temperatures, both in- and outdoors, the emphasis is on the importance of sustained thermal water treatment as a preventative measure rather than simply a cure for ailments. Furthermore, the spa and wellness areas cater for everyone with not only specific sections for men and women, but also a children's area and family area. Apart from the pools and jet pools, there are hammams, saunas, steam baths, tepidarium and an outdoor waterpark for the children – the perfect getaway for the whole family!
After some 'aqua time', enjoy a healthy drink and snack at the Aliva Café's little greenhouse, and get that extra oxygen boost; or unwind poolside or in one of the hotel's many lounge areas, bar and even patisserie. The hotel is decorated in the classical French style yet gracefully incorporates the traditional ceramic and tile culture that the surrounding regions are known for. The proud collection of ceramic displays in the lobby were most interesting and enlightening
The hotel has a very big capacity. Yet despite the number of guests, NG Afyon has managed to maintain the luxury of space and privacy and the property itself is large enough that one never feels crowded. As much as NG Afyon caters perfectly to its family-orientated guests, the hotel is also very well equipped to receive business-orientated guests. It has several meeting venues, convention centre and even offers Business Wellness and Corporate Wellness packages. It is furthermore well situated, being only a 5-minute drive to the city centre, which is easily accessible by car.
Our suite had a luxurious bath which uniquely had water directly supplied from the mineral-rich thermal springs found on the property. The varied pillow options ensured a good night's rest.
The breakfast buffet presented a huge variety of foods, in all forms and catering for all diets. It was a delight to try the many traditional Turkish foods that were on offer before heading for the pools for yet another day of blissful water wellness! NG Afyon is truly an amazing
Reviewed by World Luxury Hotel Awards Representative Mrs. Signe Da Silva
To book a stay at this wonderful property follow the link: https://nghotels.com.tr/ng-afyon/