Perfect oasis in the hustle and bustle of Johannesburg.
We had the pleasure of staying at Hyde Park Guest House on a recent short visit to Johannesburg.
As a family of four, with 2 young children, it was ideal for us since we were able to have adjoining rooms which gave us plenty of privacy and space.
We were offered the choice of a cooked breakfast, made to order, there was also a full breakfast buffet with a variety of items to choose from.
Thank you, Elfreda, for a lovely stay. The hospitality from the friendly staff was wonderful, the accommodation was very comfortable and the breakfast was delicious.
Reviewed by World Luxury Awards representative, Adele Hamman.
To book your stay at Hyde Park Guest House visit their website: www.hydeparkguesthouse.co.za
Villa Caemilla Beach Boutique Hotel – Relaxed luxury and the perfect location on Boracay Island's White Beach.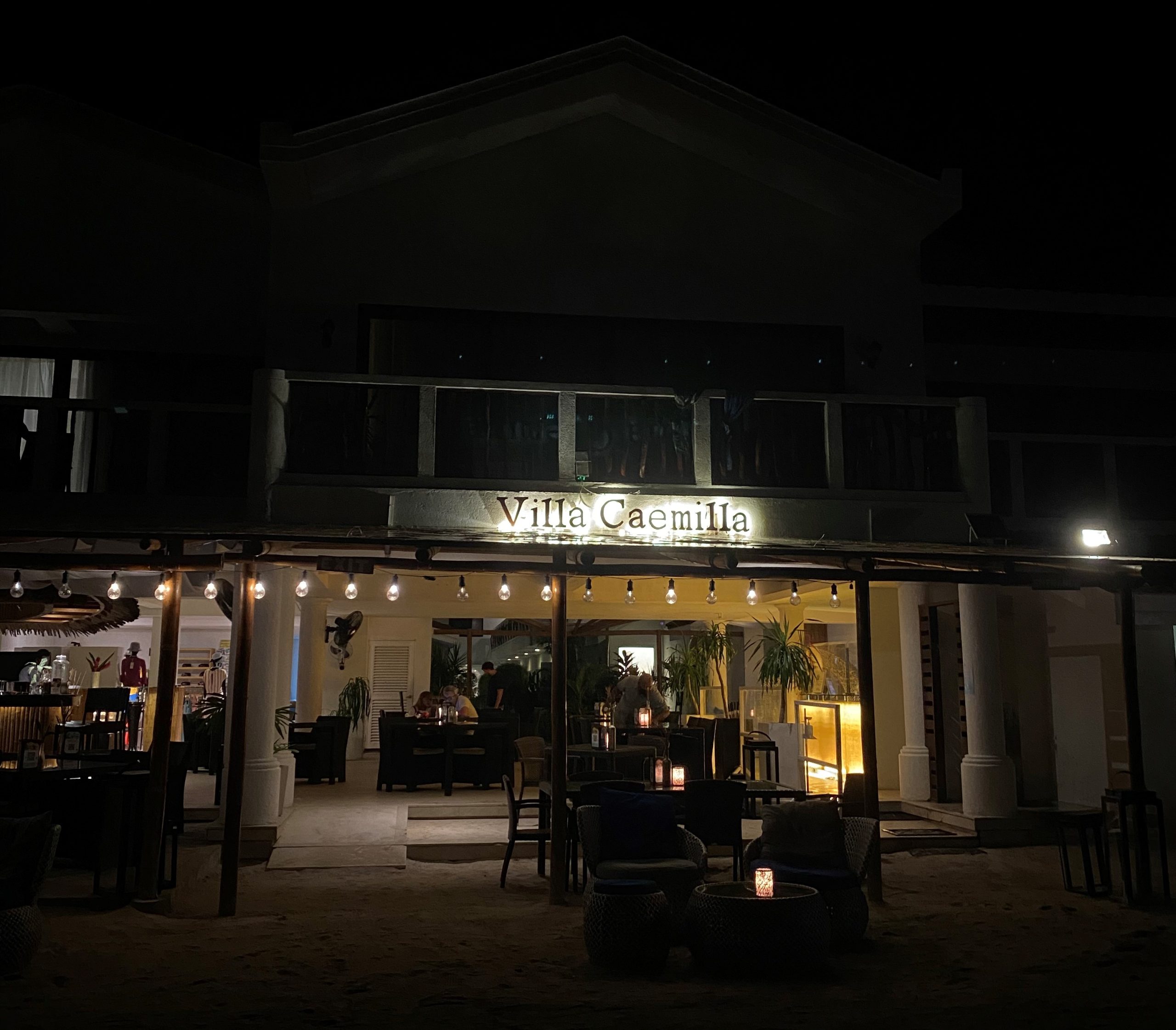 Villa Caemilla is located on Station 3 of Boracay's White Beach, one of the most famous beaches in the world. Station 3 is the quieter side of the beach, away from the hustle and bustle, so it's perfect for a relaxing stay.
Upon arrival, we were greeted by the friendly reception staff and were given a handmade garland, fresh coconut water and a cold towel.
The receptionist assisted us with booking an excursion to one of the nearby islands, it was booked within minutes and the guide arrived shortly after. We had an amazing day trip to Magic Island.
We were given a complimentary beach bag and reusable water bottles and there was a water jug in restaurant where we could fill up anytime. The hotel also has an ATM which was really helpful.
The room had the most perfect view of the ocean and surrounding palm trees. It was the perfect place to relax and watch the sunset. The bedroom was comfortable and the jacuzzi bathtub was amazing.
The restaurant served an à la carte breakfast, I had fresh orange juice and a delicious omelette with a view of the beach. For dinner, I enjoyed the Bitterballen and the crispy chicken wrap, both well-presented and full of flavour. At night the restaurant has the most romantic and beautiful ambience.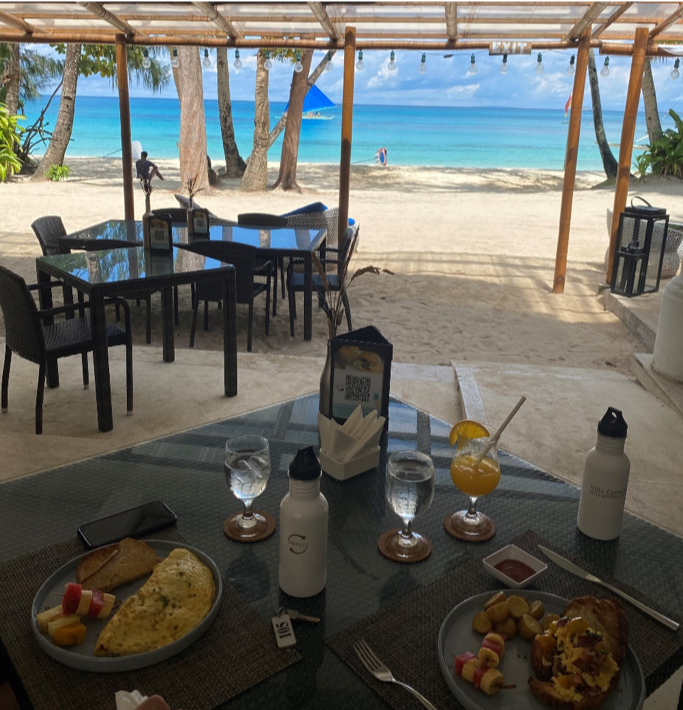 If you are looking for a carefree and relaxing beach holiday, this unique boutique hotel is perfect for you, it is great value for money, presenting affordable luxury.
Reviewed by World Luxury Awards representative, Kayla Lourens
To book your stay at Villa Caemilla Beach Boutique Hotel, visit their website: www.villacaemilla.com
Aquila Private Game Reserve & Spa – an experience in luxurious African hospitality…
My husband and I visited Aquila Private Game Reserve & Spa in September of this year, in a time where COVID-19 was, and still is, a big problem to all working in the hospitality industry.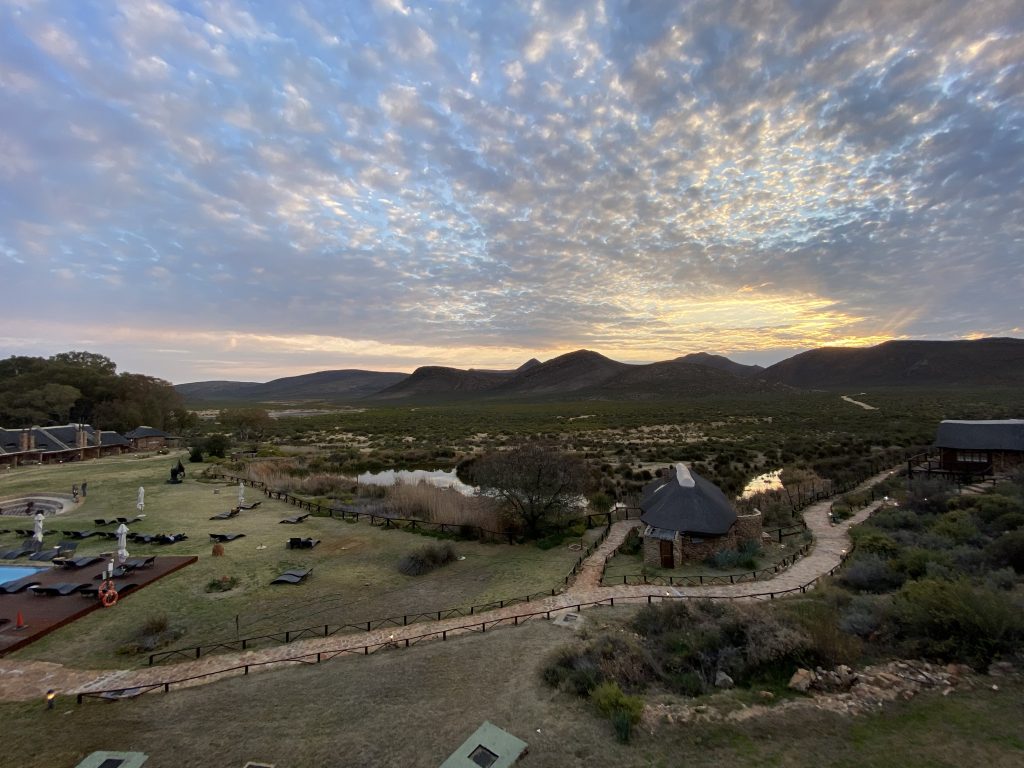 We arrived on the Friday and had a welcome drink before checking in. Once checked in they gave us time options for when we would like to go on safari and then showed us to our room.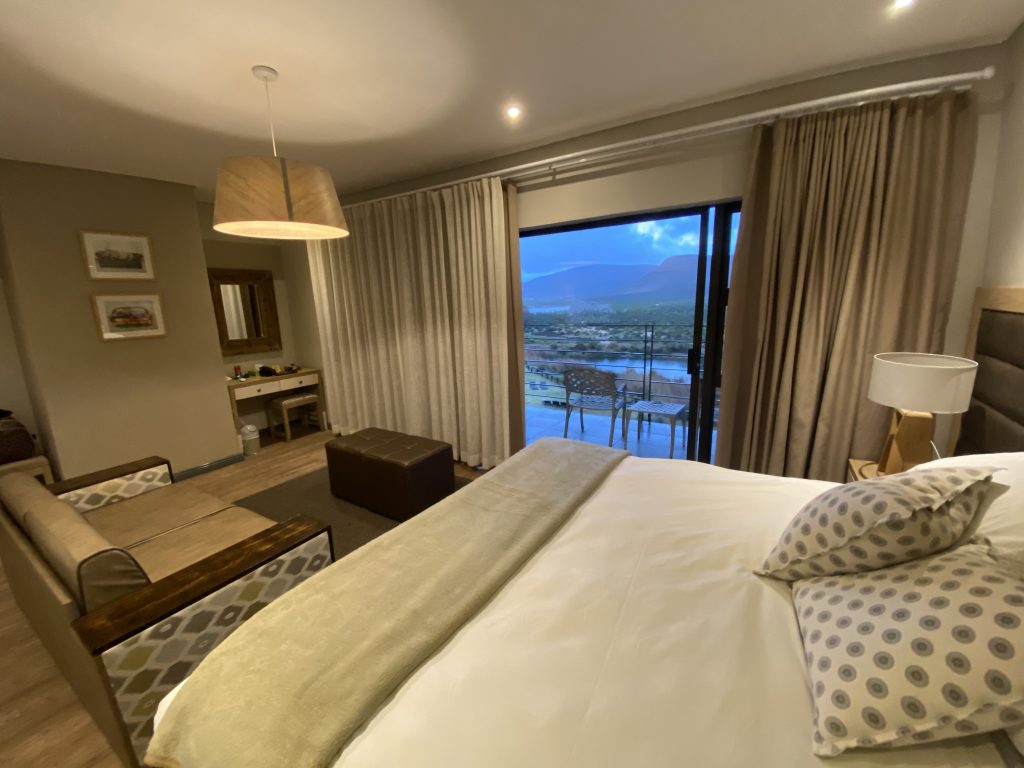 We were booked into one of the Premier Lodges. The room had a balcony with amazing views of the Game Reserve, we could even see some elephants roaming around from time to time. The room also had an en-suite bathroom, coffee and tea facilities, an in-room safe, a mini fridge and complimentary water.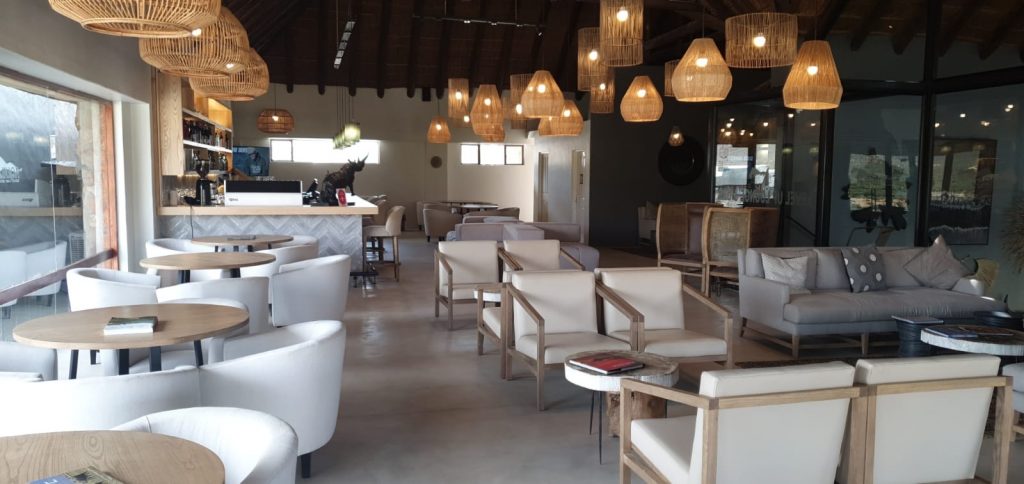 The first night we watched the sunset on our balcony and then went to have dinner at the restaurant. The food throughout the weekend was amazing and the Aquila team took great precaution to keep guests safe and healthy during this time.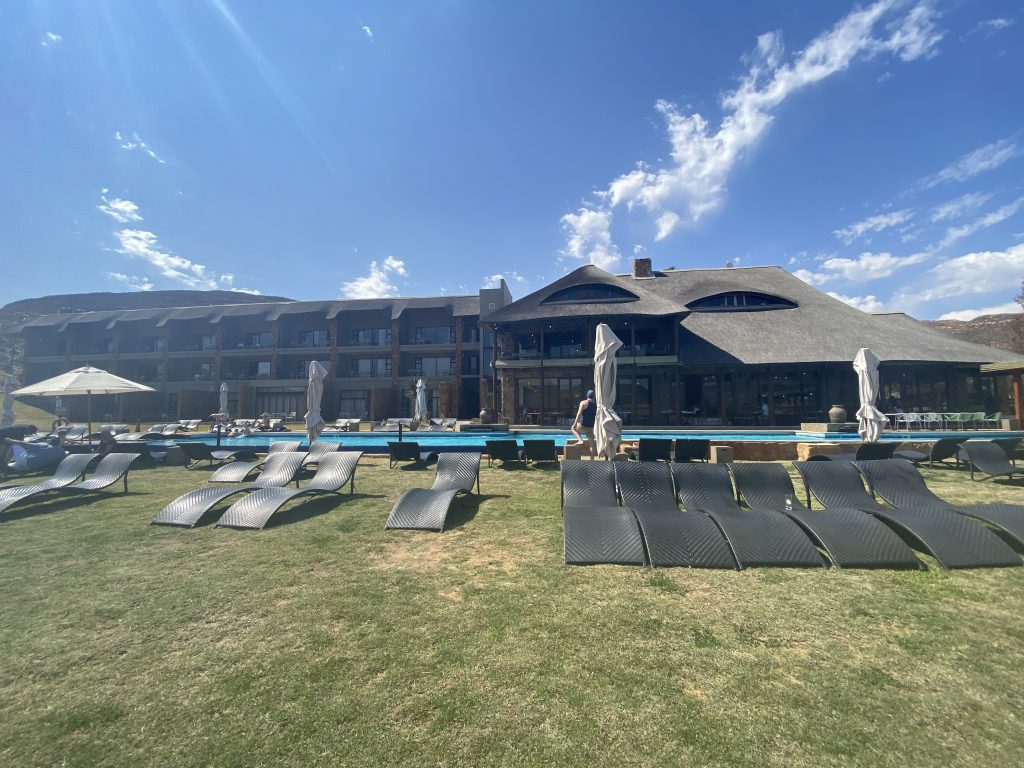 Our Saturday was spent relaxing by the swimming pool with some sparkling wine, thereafter we went on a sunset game drive. Our guide had the best stories and so much knowledge about the animals, he made our safari experience even better. We had a sundowner in the mountains before heading back.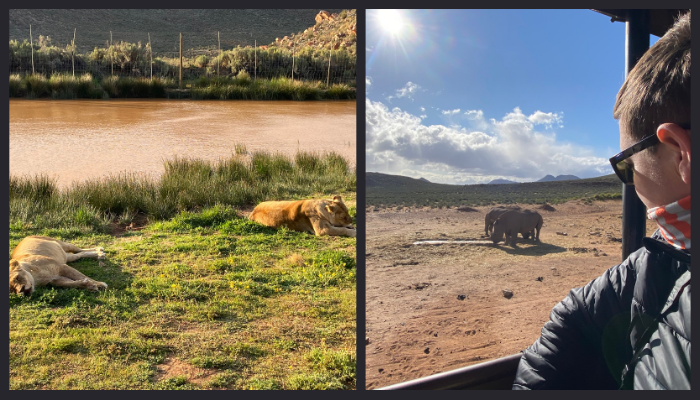 We woke up early on Sunday morning to go on a sunrise game drive, it was very cold but so worth it. We had the best time at Aquila, it was very relaxing, and the safaris was an amazing experience.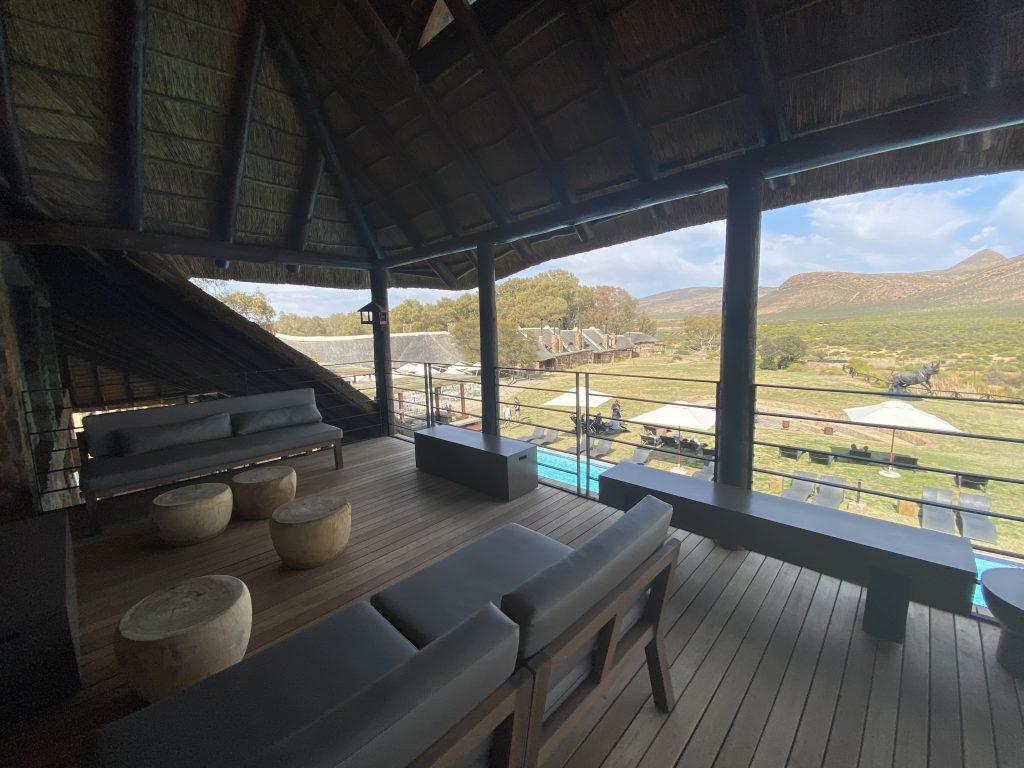 Aquila is more than just an unforgettable wildlife experience, it is an experience in luxurious African hospitality, traditional culinary delights, service excellence and the restoration of pride to the indigenous people and the land.
Reviewed by World Luxury Hotel Awards Representative:Jana Stoman
To book a stay at Aquila Private Game Reserve & Spa: https://www.aquilasafari.com/
O'Two Hotel – the perfect city escape…
O'Two is a new luxury boutique hotel situated in Cape Town, South Africa. The hotel offers breathtaking views of Cape Town's Mouille Point area and offers panoramic views of Table Mountain and surrounds.
Upon arrival, my partner and I were served with a glass of champagne and received a small gift bag containing masks, sanitizer, and Lindt chocolates.
The friendly porter assisted us to their penthouse suite on the 7th floor and explained all the amenities to us. The suite had two interleading rooms, both offering a bathroom, lounge, terrace, and kitchenette.
The design of the suite was stunning, such attention to detail, the scented candles, unique décor, and an amazing view from our balcony.
We also received a chilled bottle of Moet & Chandon Champagne and strawberries, what a treat!
The smart TV had DSTV Now and Netflix, so we were thoroughly entertained throughout our three-night stay. We also ordered delicious pizzas from the in-room dining menu and enjoyed the fully stocked mini fridge and tea station.
O' Two Hotel boasts a beautiful rooftop pool with sun loungers which is the perfect place to enjoy a summer's day in Cape Town! There is a view of the ocean and on the opposite side a view of Table Mountain.
The hotel is located close to the city center offering numerous restaurants and bars. The V&A Waterfront and famous Cape Town attractions are all just a short taxi ride away.
Thank you O'Two for your amazing hospitality, I will always remember this trip.
Reviewed by World Luxury Hotel Award Representative Kayla Lourens
To book your city escape at O'Two Hotel:https://www.otwo.co.za/
A grand stay at Waldhaus Sils Hotel…
The drive down to Sils was breathtaking as we descended into the verdant Engadin valley. The Waldhaus ("forest house") is majestically perched in a forest above the delightful village of Sils, overlooking the valley and its many lakes. As the hotel is at 1800m altitude, the air is crisp and warm, devoid of the coastal mugginess at this time of year.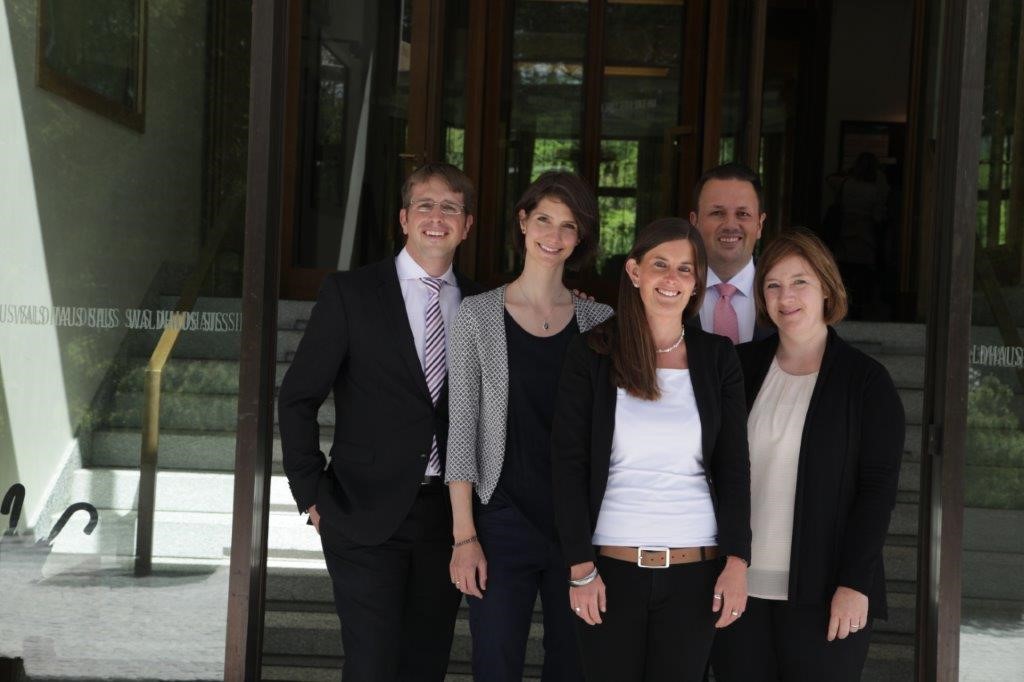 The décor of the hotel has been purposely preserved as it was many years ago and exudes an old-world charm in the best tradition of luxury hotels of that era.
Our room consisted of a lounge with bathroom on level 1 and a spacious bedroom en-suite accessible via a quaint spiral staircase. Bathroom fittings were of a classic look and of top quality. The accommodation was scrupulously clean and maintained.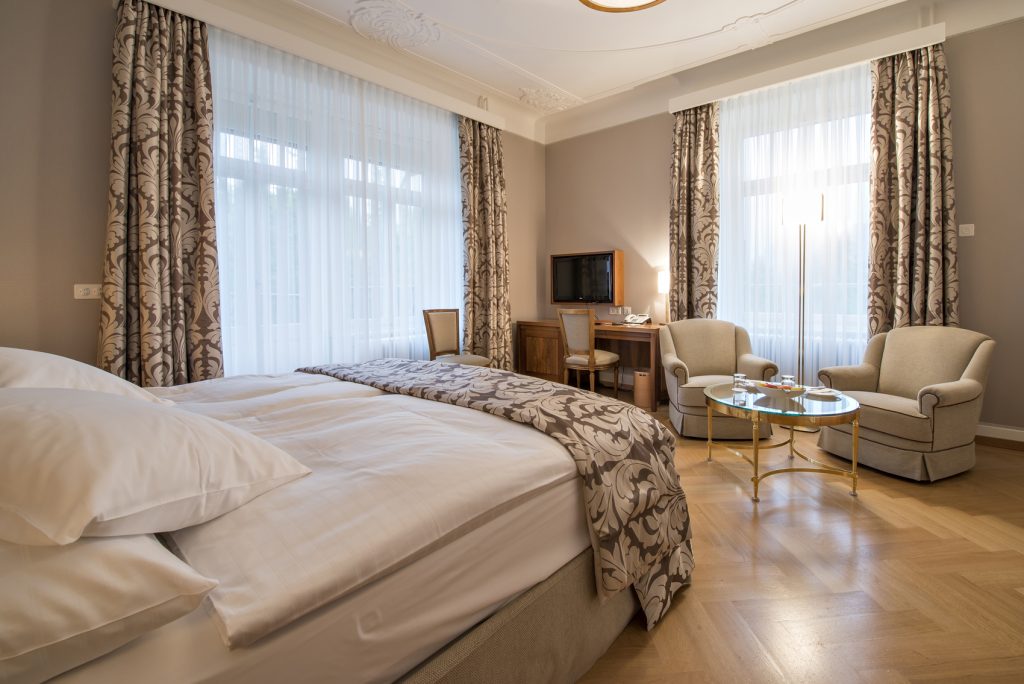 Guests can choose a variety of room genre furnishings and decorations eg contemporary, historic, classical etc. Indeed, some returning guests specify the genre of their choice when rebooking at the Waldhaus.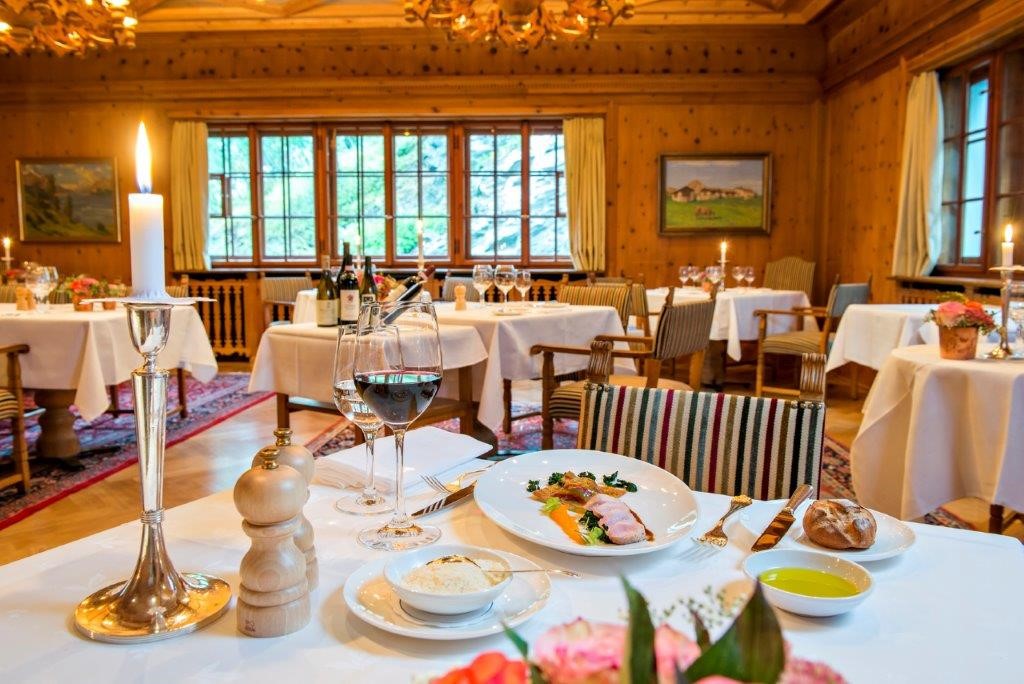 We were treated to a very special fine dining multi course dinner in the original wood paneled a la carte dining room. The enthusiastic sommelier let us experience a few of the excellent wines from the region drawn from their huge cellar selection while guiding us for food matching as a delicate compliment to the fine cuisine that was presented to us. A most enjoyable candle lit evening overlooking the forests stretching out before us.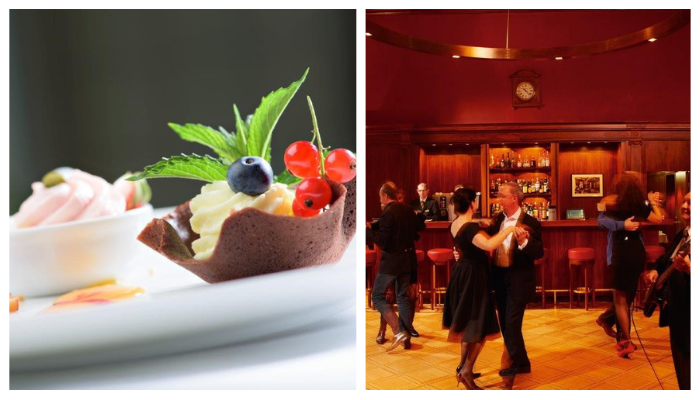 After a peacefully silent sleep, we awoke at dawn and were greeted by a spectacular view from our windows of the valley and its lakes stretching to the far mountains in the distance.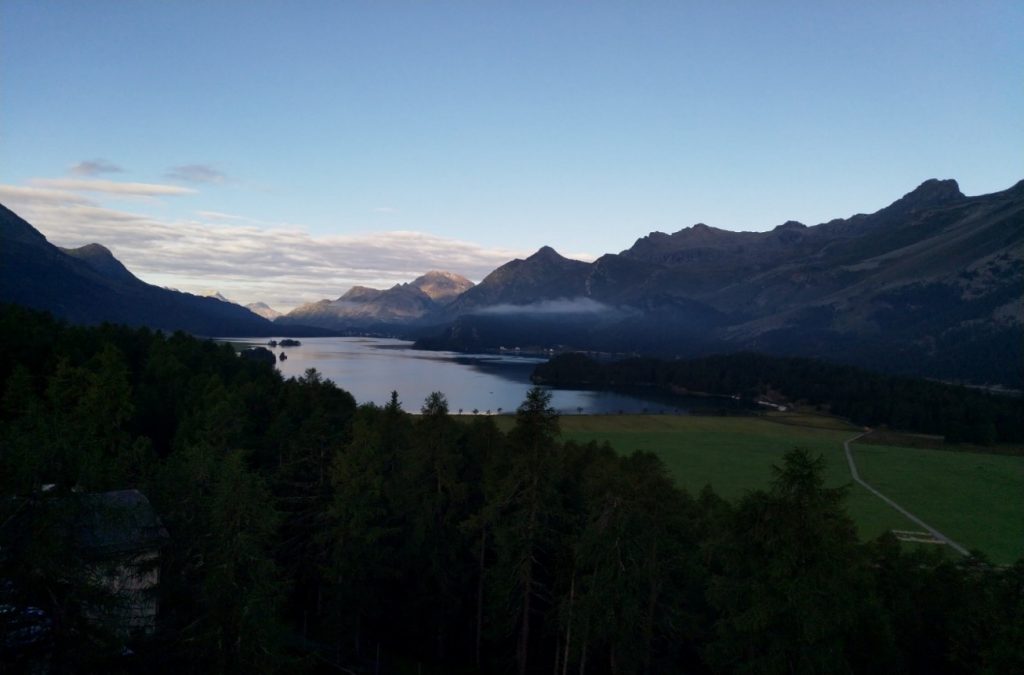 A special tour of the hotel was conducted by the family's general manager and co-owner, a descendent of the original creator of the hotel, wherein he enlightened us of the rich history of the hotel.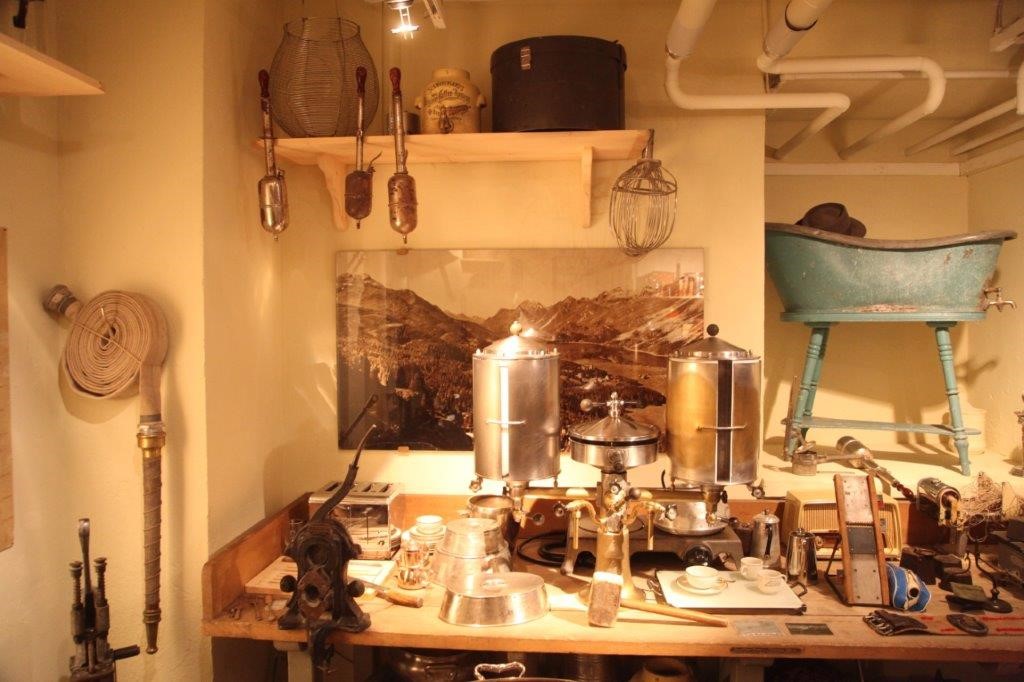 Of great interest was the "live" ghost that lives in a suitcase in the underground museum surrounded by artifacts of a bygone era. The hotel also features one of the first synchronised clocks system to be installed in a hotel at that time. Who knew?!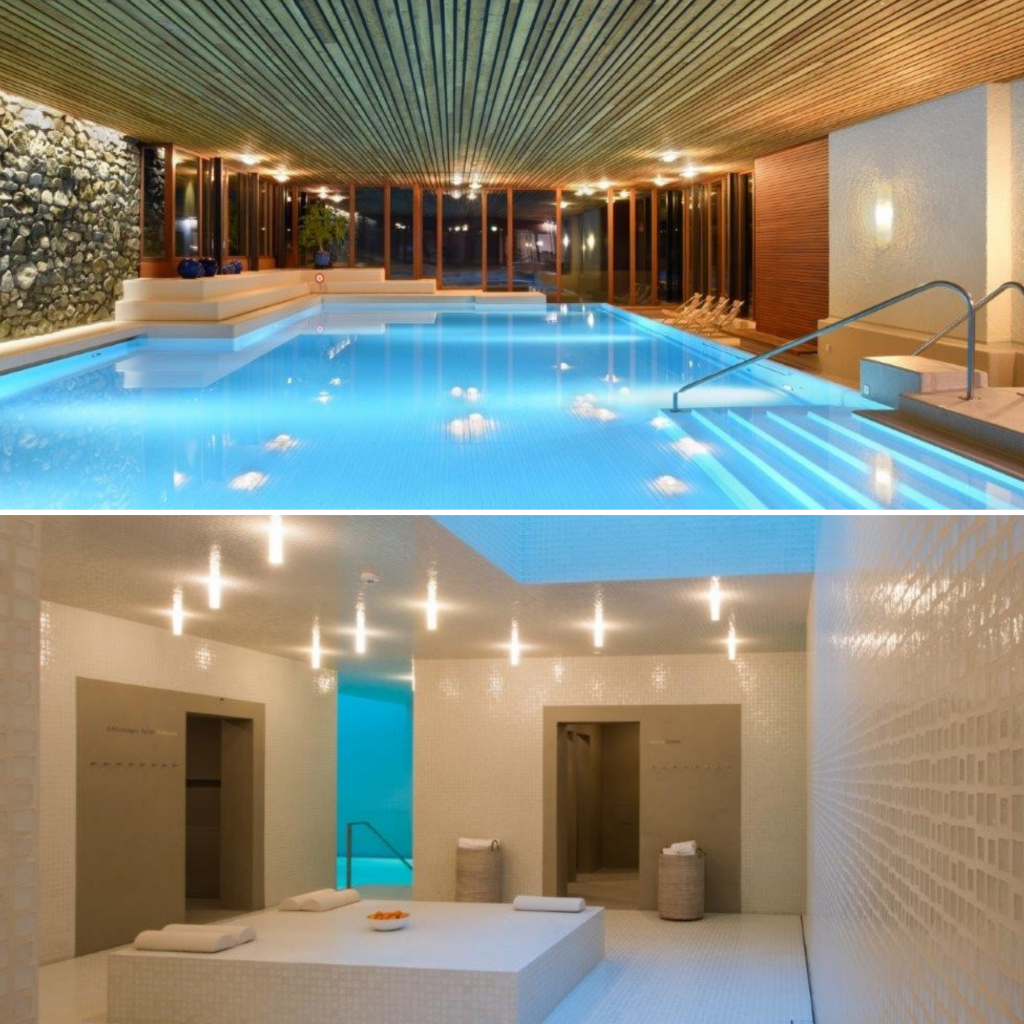 In contrast to the classic décor of the hotel, the new spa is ultra-modern and has been tastefully designed to complement the hotel. We enjoyed massage treatments by professional therapists who were friendly and extremely knowledgeable about all wellness matters – superb!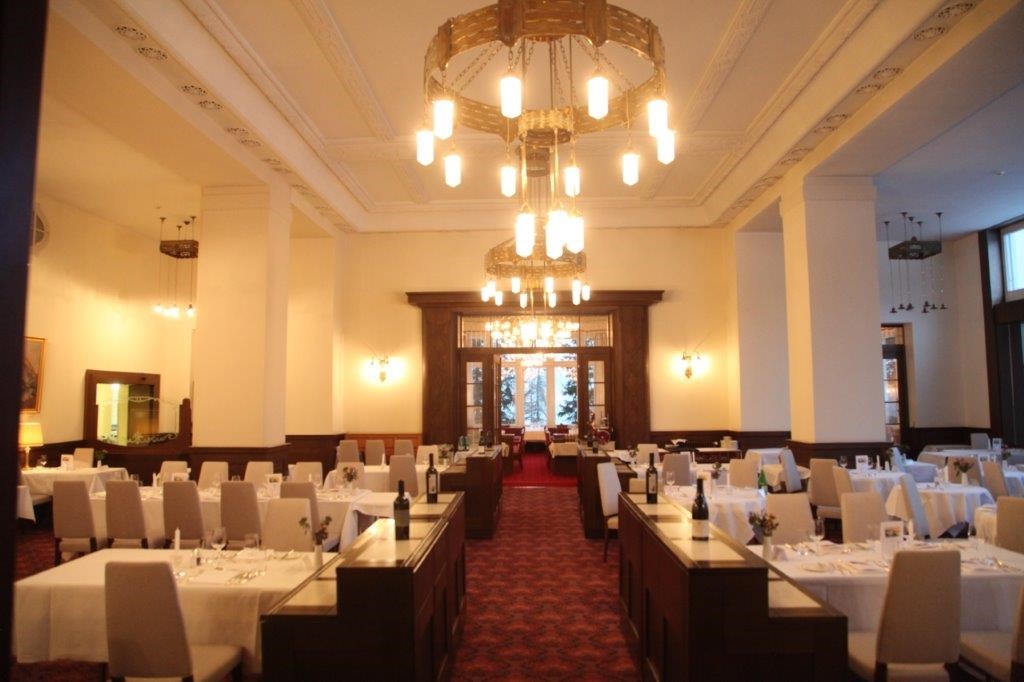 Breakfast was a classic affair in the stately high ceiling dining room with a vast variety of tasty items together with the option of a la carte menu. Eggs were perfectly presented and the cappuccino was delicious.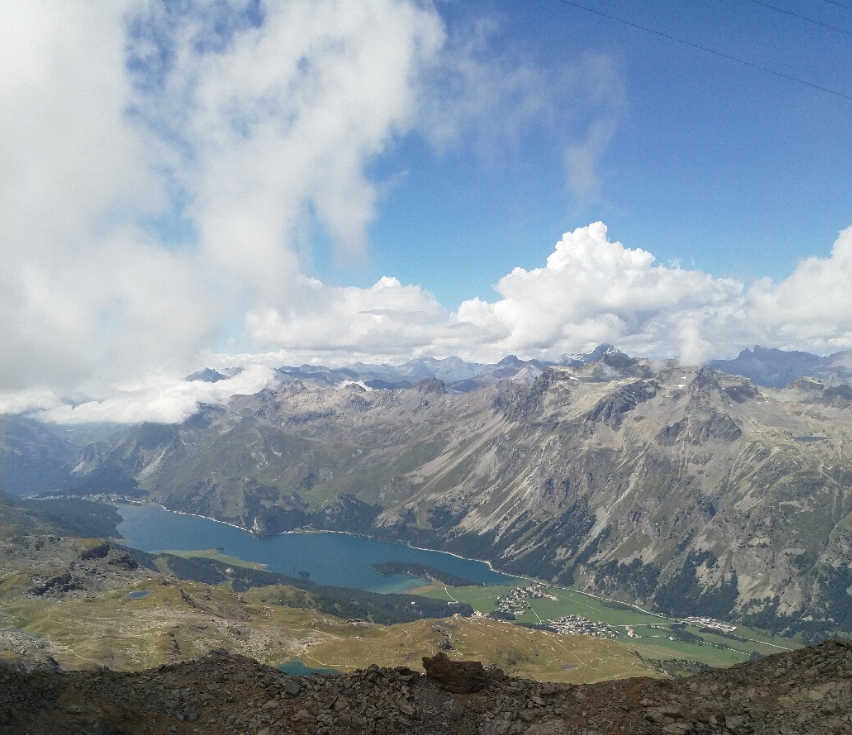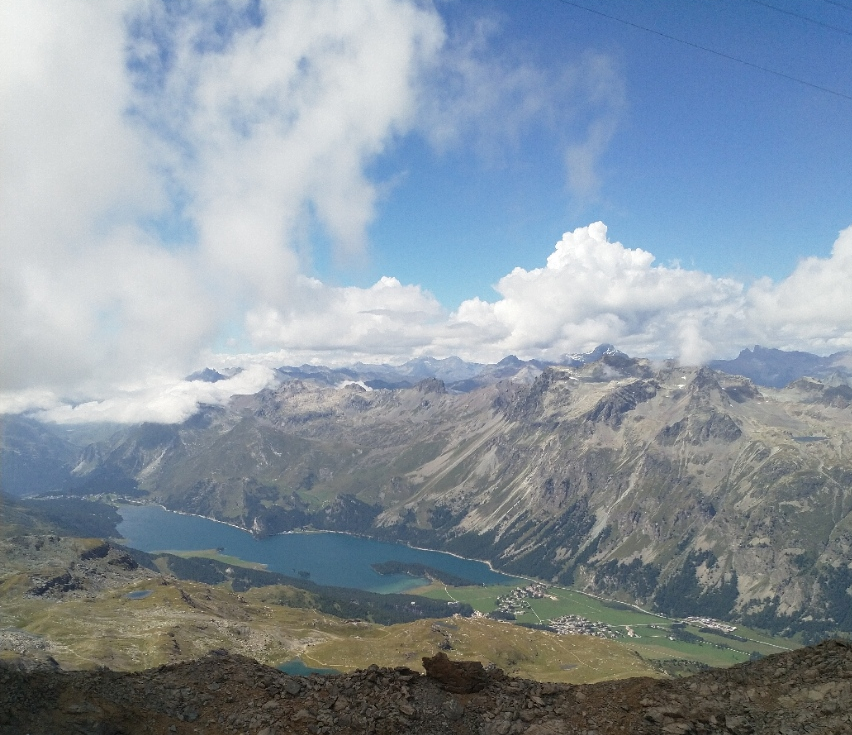 Later in the day we were treated to an exhilarating cable car ride up to the 3300m peak of Corvatsch from where we could see the Waldhaus overlooking Sils valley.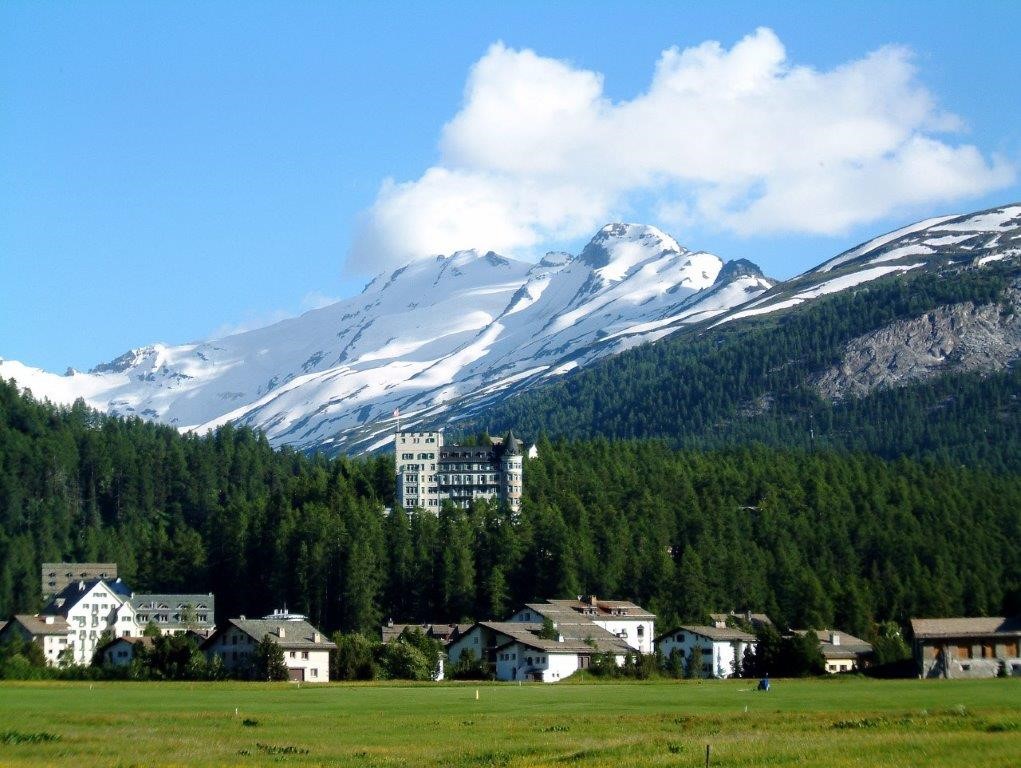 We had an incredibly special and memorable stay. If you are looking for a grand country hotel of days gone by but beautifully preserved, look no further than the Waldhaus Sils hotel.
Reviewed by World Luxury Hotel Awards representative Marianne Cauvin-Vaz.
To book a stay at this spectacular property: https://waldhaus-sils.ch/en/
A luxurious getaway at Ultima Gstaad…
After a long amazingly scenic drive from Monaco via Turin and over St Bernard pass we eventually arrived at the 17 suite Ultima Gstaad. Although the exterior of the hotel resembles a fancy Swiss ski chalet, the interior is quite a revelation.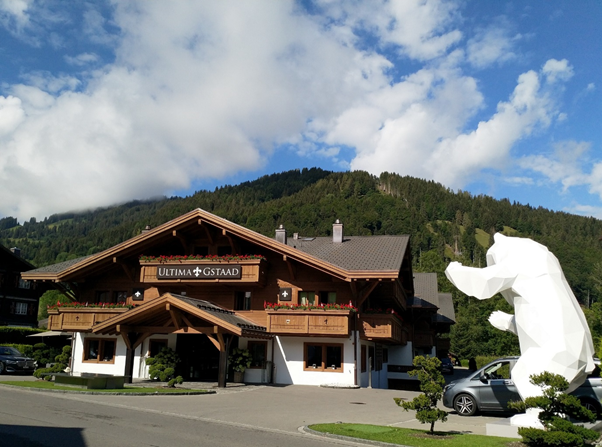 Featuring the best finishes available and furnished and decorated in assosiation Louis Vuitton and Hermes it imparts chic while still being homely and warm. The rich combination of wood, leather and fine textiles ensure the WOW factor.
Upon arrival, one is greeted with a unique perspex piano in the lobby. This hi tech theme is also mirrored in the glass elevator which is one of a kind.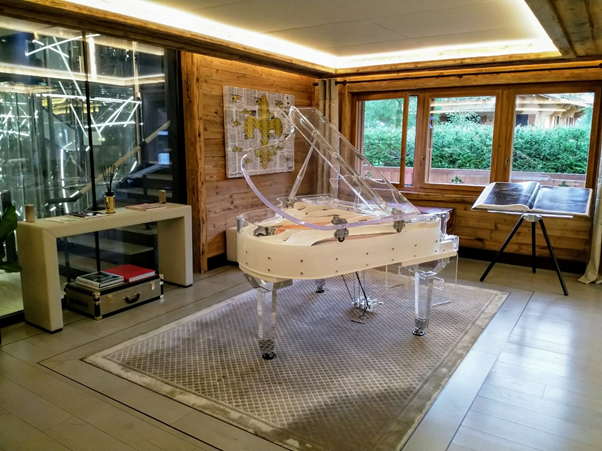 The duty manager and his team were super friendly and attentive. Nothing was too much trouble.
Our suite continued the theme of luxury, fine design and warmth. The walk-in wardrobe was bedecked with plentiful storage space including leather fronted pullout drawers. The lounge suite was finished in crème leather and soft fabrics. The king bed also featured the finest cotton linen.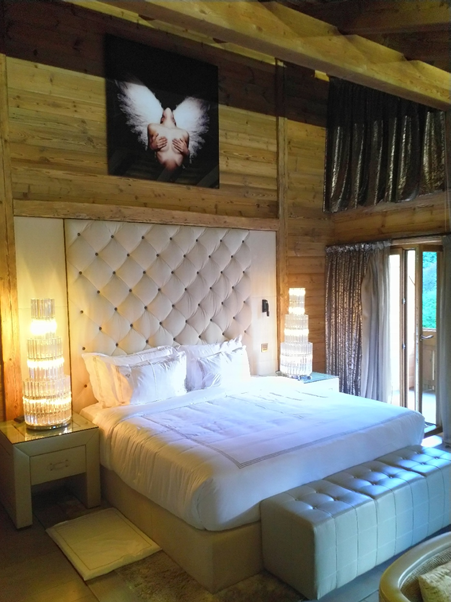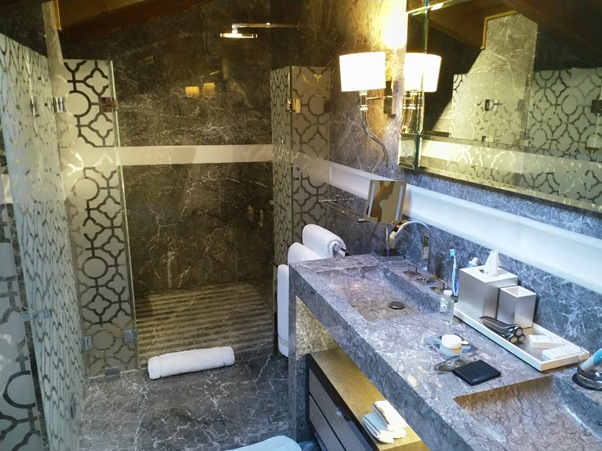 A personalised letter welcomed us together with a plate of delicious canapes.
The large bathroom was stunning in fine veined grey marble featuring a huge walk-in double door Swedish shower and double marble sinks.
Waking through the patio doors onto the wooden balcony, we were presented with a stunning view of the distant mountains and the clanging of cowbells on an adjacent pasture.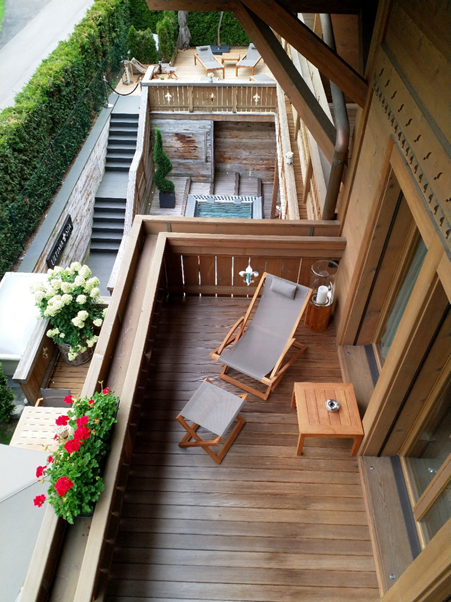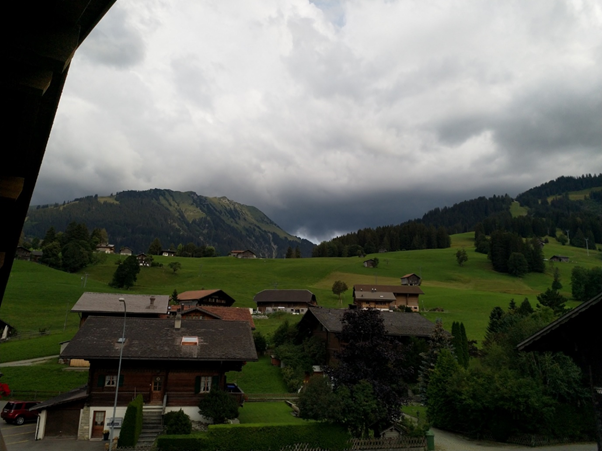 The next morning we were greeted with a scrumptious breakfast including delicious pastries, breads, detox juices – all freshly made – and an a la carte menu. The bespoke eggs and bacon were presented in true gourmet fashion and tasted even better. The breakfast area was intimate and inviting and although the hotel was full, only a handful of clients were dining which added to the overall tranquility of the surroundings.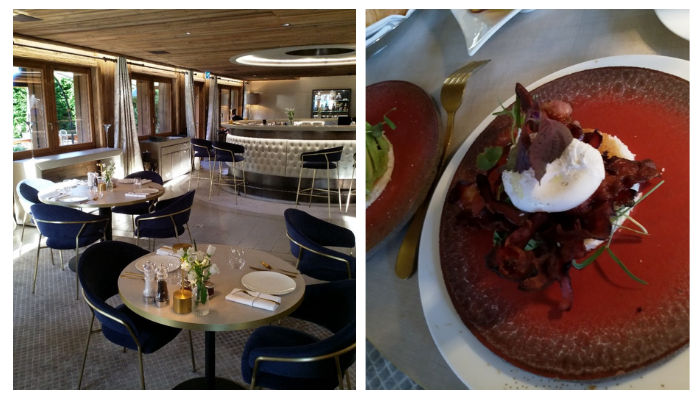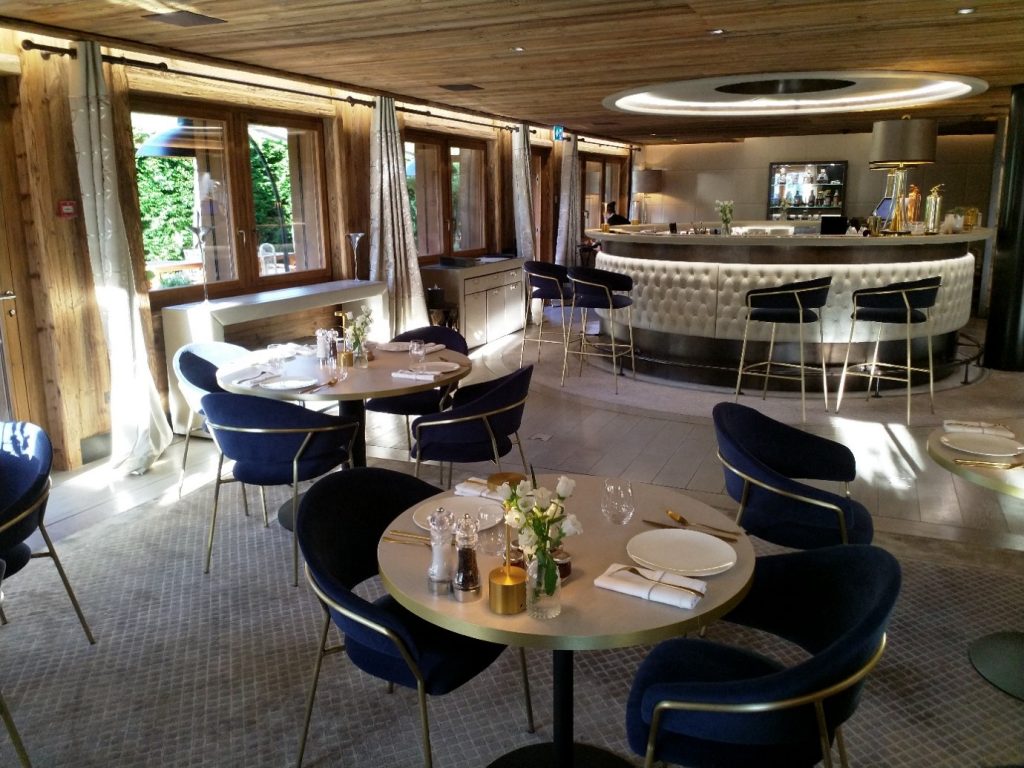 Secure and plentiful underground parking was available for complimentary use.
The hotel was a brisk walk to the buzzy and trendy Gstaad village centre together with its outdoor restaurants and cafes and picture postcard railway.
The spa is breathtaking comprising a large indoor pool, hot whirlpool tubs inside and out, a sauna, steam room and gym. After indulging, a visit to the indoor snow machine that spews forth snow from overhead is a surprise touch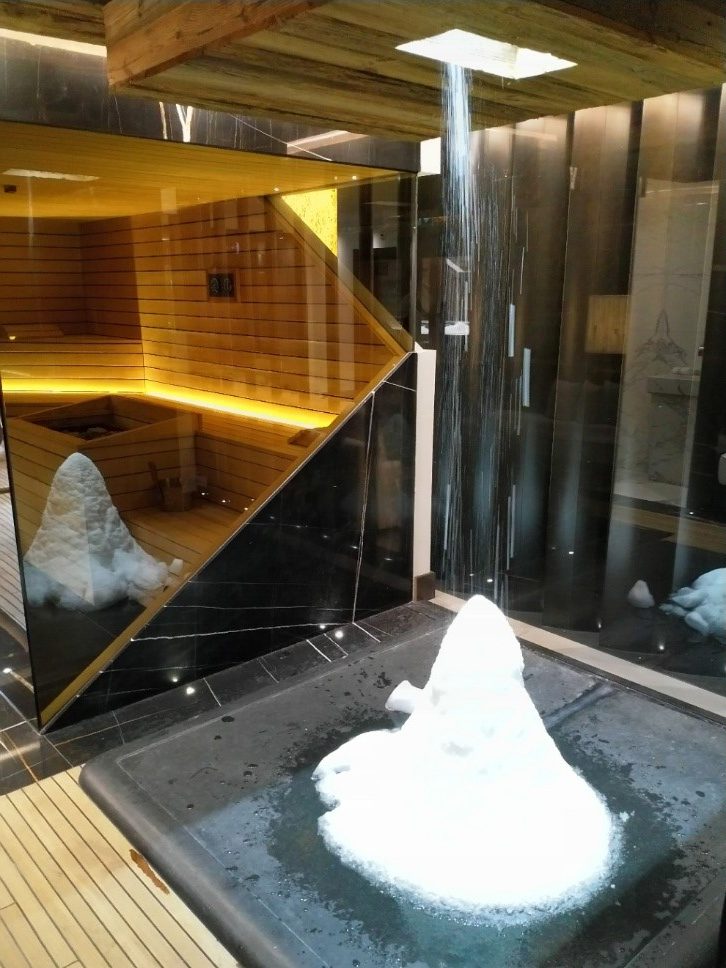 The spa massage was absolute heaven.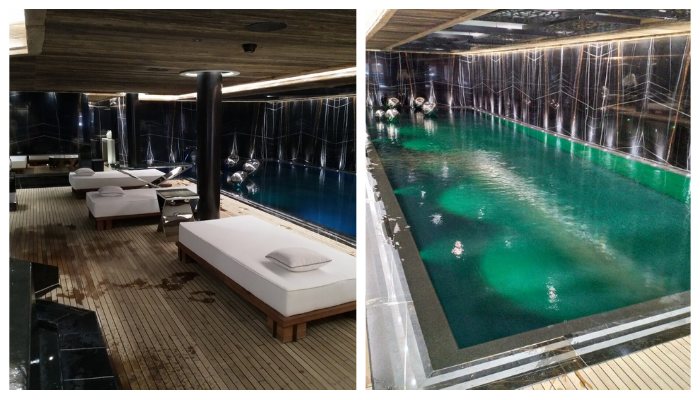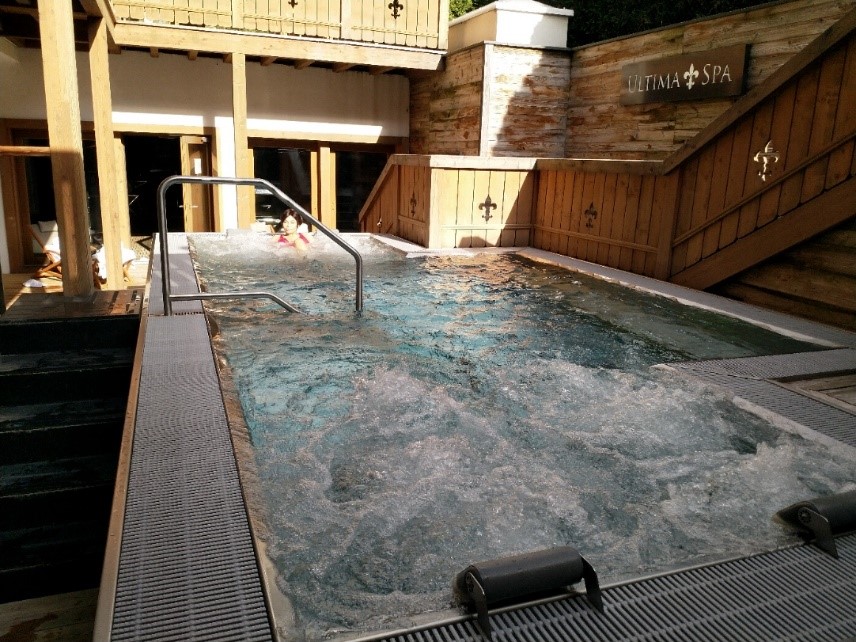 Our stay was in one word – Perfection.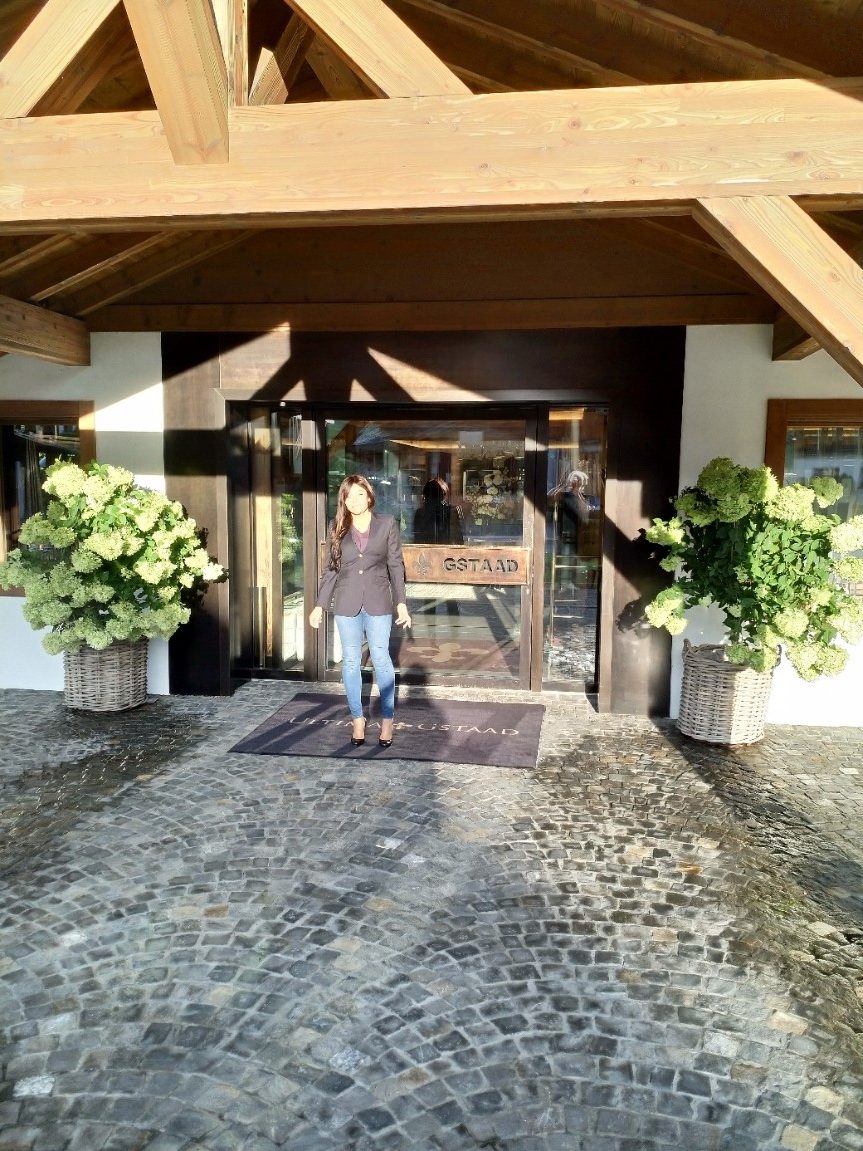 Reviewed by World Luxury Hotel Awards Representative: Marianne Cauvin-Vaz
To book a stay at this magnificent property: https://www.ultimagstaad.com/en
Hotel Skt. Annæ – the perfect hotel for a stay in Copenhagen…
Arriving at Hotel Skt. Annæ in Copenhagen I was immediately impressed by the beautiful exterior with large flower pots on either side of the entrance, historic buildings in the surrounding area and the close proximity to the city centre. We were within walking distance to a variety of restaurants and most importantly Strøget; the longest pedestrian shopping street in Europe at 1.1 km. We arrived a little early for check in and the front desk staff were happy to keep our luggage in storage while we went to explore the city.
Hotel Skt. Annæ boasts a beautiful open area which immediately catches your attention. Featuring a large wooden table in the centre, with beautiful chandeliers hanging above and plants all around the room it really is a special space and feels like the heart of the hotel. There is also writing on the wall explaining Hotel Skt. Annæ's history and other interesting facts about the property.
Once we got back from an afternoon of exploring the charming city of Copenhagen, we were able to go to our rooms. Our room was modern and beautifully decorated with a painting by the famous Danish painter Vilhelm Hammershøi. His artwork can be seen throughout the hotel and really stood out to me.  Besides this the furnishings in Hotel Skt. Annæ are largely from Danish Designers.
Our room also had a beautiful view over the street outside, a sizeable and comfortable bed, desk area and a beautiful bathroom with gold bronze taps and shower heads. The design in the bathroom really stood out to me.
After a great night's sleep, we headed down for breakfast and wow, Hotel Skt. Annæ seriously shines here. There are 3 parts to the breakfast area, first the Breakfast Restaurant Area, then the kitchen area where the buffet is placed and lastly an indoor courtyard area where more seating is available with a beautiful tree in the centre. This area is also buzzing at night, and a great spot for a glass of wine with friends.
I absolutely loved the fact that the buffet area was basically in the kitchen and while you were dishing up your morning scrambled eggs you could see the chef on the other side preparing meals. Very unique and a great touch. The food selection at breakfast was incredible with everything from Bacon and eggs to Cheesecake and Nutella Croissants.
The lounge area in Hotel Skt. Annæ is also a great area to grab a quick coffee, meet with friends or simply relax with a glass of wine. Keeping in theme with the hotel décor, the space is modern and contemporary with a beautiful fireplace as a centrepiece. There is even a Hotel Skt. Annæ magazine on the table where you can read all about the hotel, get to know each staff member and great tips on what to explore and must see's in Copenhagen. I loved this personal touch.
The staff at Hotel Skt. Annæ are incredibly friendly and helpful and you immediately feel comfortable and at home. On our last day we had a late flight back home and at the last minute requested a late check-out. The staff were quick to accommodate us at such short notice and this really made our last day in Copenhagen enjoyable. Just before leaving for the airport we were able to freshen up for the long journey ahead.
All in all, our stay at Hotel Skt. Annæ was an all-round wonderful experience from start to finish. The Hotel is the perfect blend of luxury and comfort with modern design. Add in amazing staff, great food with a warm atmosphere and you have yourself a winner! Hotel Skt. Annæ is definitely the hotel to stay at when visiting Copenhagen.
Reviewed by Executive Manager of The World Luxury Awards: Ms. Tanique Echardt
To book a stay at this remarkable hotel follow the link: www.hotelsktannae.dk
Herangtunet Boutique Hotel Norway – an intimate and luxurious hideaway…
Arriving in Norway at Oslo Airport we hired a car and took the scenic route towards Herangutunet Boutique Hotel. The hotel is situated on the outskirts of the quaint town of Heggenes and driving towards the hotel you almost think for a second you are lost. The Hotel is magnificent and right in the middle of the forest. It truly does take your breath away. I absolutely loved how the hotel is at one with nature and eco-friendly in every sense.
We arrived early, but Marco the owner greeted us and immediately made us feel so welcome and right at home. He was happy to show us to our apartment early. The hotel boasts 4 suites, 5 rooms and one apartment. The apartment is spacious and with two rooms, a lounge area, dining area and a fully equipped kitchen mking you feel immediately relaxed and at home. The Apartment is decorated with earthy tones and beautiful wooden finishes. I especially loved reading through the Guest book about previous visitor's happy experience's here.
After settling in, Marco was kind enough to show us some of the rooms and suites where guests had not arrived for check in yet. I must say, I was and still am completely blown away by Marco and Marie and their love for Herangtunet. They have spent years making each room and space something truly special. Marie is an interior designer and all I can say is wow. I have never seen such beautifully and well thought out decorated rooms.
Marco too put his heart and soul into creating the spaces with his own hands. It was fascinating to get all the details. The main building was even dismantled picked up and rebuilt at Herangtunet to house the current suites. It was incredibly special to be taken on a personal tour of this special property.
We spent the afternoon exploring the beautiful woodlands surrounding the hotel and soaking it all in. Marco has even created a Sauna in the woods with a jacuzzi outside. There is also a fire pit area you can enjoy on the colder days as well as outside seating to enjoy on the warmer days.
The main building and where the restaurant, lounge area and bar is situated is warm and welcoming. Walking in here you immediately know that it is going to be a great evening. All the staff are so friendly and welcoming you almost feel like you are joining your family for dinner. I was also so happy to see our World Luxury Hotel Awards Trophy proudly displayed on the bar counter. A well-deserved home.
Dinner at Herangtunet was incredible and a dinner I will not soon forget starting with a mouthwatering starter of soup freshly made and ending with a unique beer ice cream. Everything is made by the team with the freshest local ingredients and served with a wine of your choice. Marco and the team really interact with all their guests and Marco even gave all of us a warm welcome and some history on Herangtunet and how it came to be. It was a memorable and special evening.
After a great night's sleep, we joined the Herangtunet team for breakfast and again everyone was there to welcome us and have a chat. This breakfast was absolutely incredible, assorted cheese, fresh homemade bread, sliced ham and salami, cereal, and even a home-made chocolate spread. After telling Marco how much I loved this chocolate spread he even sent me the recipe which will definitely be used at home.
In conclusion Herangtunet Boutique Hotel is honestly the most intimate and luxurious property I have ever visited. The location and nature, the history, the food, and most importantly the people make this property a rare gem. Marco and Marie are extraordinary and it is clear that Herangtunet is a labour of love. My only regret is that I could only stay for one evening, but even so; in this time, I fell in love with Herangtunet. I look forward to visiting this exceptional hideaway in the near future and highly recommend it to anyone travelling through Heggenes, Norway.
Reviewed by Executive Manager of the World Luxury Awards: Tanique Echardt
To book a stay at this beautiful property simply follow the link: www.herangtunet.com
Hotel Katajanokka – Escape the ordinary.
Hotel Katajanokka is a rather comfortable prison and one of the most uniqe hotel's I have ever visited. Before it was converted into Hotel Katajanokka, it was literally the old prison of Helsinki. A new prison was built and the decision was made to renovate and recreate the old prison into Hotel Katajanokka.
The beauty of the hotel is almost hidden behind the perimeter wall, but once you enter the gates the scope of this hotel with its rich history comes into full view. Walking in the front door is not at all what you would expect from a prison. No metal gates, no bars and no prison guards taking your belongings and putting you in handcuffs. Instead, you get modern automated glass doors, friendly welcomes from the staff and someone willing to take your bags to your "cell".
Walking down hotel hallways between rooms that used to be the cells where the prisoners were kept, you almost get the feeling of being in an episode of Prison Break. The rooms are comfortable in size; defnitely not as small as the cells used to be. They broke through the walls and converted 3 or 4 cells into one lovely room with a modern bathroom and enough space for a large bed and dressing table. The rooms still have the original small windows with views into the yard. The decor was stylish with old prison locks and images framed above the bed; reminding us of the unique history of Hotel Katajanokka.
The hotel has also kept an isolation cell in the exact condition it used to be when it was still a prison. So if you like, you can go down and lock your friends up or take some awesome pictures. Another feature is the group holding cell. This is basically a small, dark cave in the foundation of the building that was used to hold large groups of people. I must admit it was quite eery exploring these rooms, but also very intresting. These original cells and many more features of the Hotel Katajanokka are now being used for treasure hunts and team building exercises where you will be given clues hidden inside the dark and scary cells. This to me is an amazing way of sharing the rich history of the hotel with the public.
Hotel Katajanokka also has a gym. You are able to do great workouts in the small but well thought out gym with top of the range equipment. They have everything you need and more for all your workout needs during your stay.
The restaurant is just as impressive. With amazing food and a warm and entertaining atmosphere you find yourself sitting around the table laughing and cracking jokes with the friendly waiters for much longer than you initially intended. If you ever find yourself in this particular prison kitchen, I do recommend the burgers!
Breakfast at Hotel Katajanokka is really amazing. No matter where you are from, you will find exactly what you want at this buffet breakfast. There is even an ipad that controls the juice fountain.
Hotel Katajanokka has exceeded all my expectations. I really loved staying here, but one thing stands out to me above all. The staff. Especially the front desk staff. On our last day in Helsinki our flight left early in the morning which meant we would have a really early checkout before breakfast was available. In most hotels if you put in a request the previous evening, they will give you a yoghurt or some fruit the next morning just to keep you going.
Not at Hotel Katajanokka; here Taija who was on duty told us to come down 30min before we needed to leave so we can eat something. When we got to the reception early in the morning, she had bars and fruit waiting for us. There were also smoothies and shakes. And as if that's not enough, she offered us coffee and tea and then she told us to have a seat while she fixed us some oats. This is unbelievable. Never have I experienced a front desk staff member at a hotel going through so much effort to make sure we do not leave with an empty stomach. Thank you! This was really appreciated!
In conclusion, Prison Break is a TV series where some inmates desperately tried to break out of prison. However, here you will find yourself willing to do anything just to stay a little longer at this stylish and unique hotel.
Reviewed by World Luxury Awards Executive Manager Tanique Echardt
To book a stay at this unique and stunning property follow the link :www.hotelkatajanokka.fi
Arctic Light Hotel – a unique contemporary hideaway in the heart of Rovaniemi …
Arriving at the Arctic light hotel during the day, it blends in with the buildings around it except for a massive polar bear welcoming you to your new home. At night it completley lights up with stunning fairy lights and bright colored spotlights shining onto the building and it becomes clear you have arrived in aurora-light territory. Located in the tourist part of Rovaniemi and just a two-minute walk from the vibey centre of this magical town ;we were in the perfect location for our stay in Rovaniemi.

In contrast to the freezing cold outside, walking in the modern front doors you are greeted with warmth. Not only by the exceptional staff but also by the atmosphere created by the lighting and warm interior design. After walking up and down the shopping street in temperatures bordering zero degrees it's a sigh of relief every time those automated doors of the Arctic Light Hotel swing open to greet you. It's the same feeling you get when coming home after a long day at the office. It feels like home.
The best part of home is kicking off your shoes and getting comfortable. In the spacious room with its own mini lounge and kitchenette, that's easy to do. And the cherry on top…. Sauna!!! Yes, you have your own personal sauna. So, if the atmosphere and friendly staff warmed your heart then the sauna will surely warm your body. It's the best feeling to jump in the sauna and warm up after having to wear thick layers outside. Our room was beautiful with modern and contemporary design, as well as touches of local heritage and a delight to return to after a day of exploring.

The Arctic Light hotel also scored major points in my book with their gym. The gym and breakfast are two areas where I personally pay close attention to. I love a good workout. And I also love to eat. Especially in the morning. The gym itself is small, but big enough to do a full workout. The layout and types of equipment they have available allows you to do great workouts all week long. I really appreciated this and its clear that some thought went into the design and outfitting of the gym.
The Arctic Light Hotel has a great buffet breakfast with enough variety to cater to everyones needs. The food was delicious – especially the sweet treats. I also loved the layout of everything. The perfect way to start a day of exploring.
While on the topic of food, lets talk about the restaurant which was absolutely superb! The menu offered a variety of local dishes and being in Finland, I had to try the Reindeer. And boy was it good! The waiter was friendly and helpful, the food was out of this world amazing, the atmosphere was relaxing yet vibey; the list goes on. Even if you don't stay at the Arctic Light Hotel but happen to find yourself in Rovaniemi one evening, I would highly recommend trying out the Arctic Restaurant.
After dinner if you are looking for a nightcap you are able to relax in the Plan B bar area. Also part of the Arctic Light Hotel. This area offers a full bar with a great and relaxing lounge area. It's all very classy and is a big contributor to the warm atmosphere you feel as you walk in the door.
My conclusion is that The Arctic Light Hotel is an amazing hotel to stay at when visiting Rovaniemi. It feels like home and is warm and inviting while being very modern and contemporary at the same time. It's a place you look forward to being. Instead of just being the accommodation you stay at every night while you explore your dream destination, this hotel becomes part of the dream. Arriving in Rovaniemi is arriving at your dream holiday destination. Arriving at the Arctic Light Hotel is completing the dream.
Reviewed By World Luxury Awards Executive Manager: Tanique Echardt
To book a stay at this superb hotel: http://www.arcticlighthotel.fi/en/hotel/
The Mulia – Nusa Dua, Bali – A blissful island escape …
My Husband and i recently had the privilege to visit The Mulia Resort in Bail. It was one of the most luxurious experiences we have ever had and we were thoroughly impressed with the attention to detail – the resort itself was immaculately kept, the staff always friendly, helpful and available, the food was exquisite and we will forever treasure the memories of our stay.
We arrived at the Mulia after a long wait and treacherous journey from the Gili Islands followed by a long drive from Padang Bay – typical traffic jams along the way. My husband kept in contact with the hotel to notify the delay in arrival and they were understanding and helpful in on the telephone. We arrived after dark and were immediately welcomed by a staff member who collected our luggage and provided us with a receipt which immediately came as a wonderful relief. Upon check in, due to multiple staff members being available to help us, we did not have to wait and were welcomed with a hot towel and cool water which helped to further remove the sweat and stress of the day. We were greeted and accompanied to our room by another staff member – which helped greatly, as the scale of the resort can be quite alarming initially – but she explained to us quickly which floors we would be wanting to use for whatever activity we wished to pursue, for example eating out or outdoor activities. She also explained vouchers that were issued to us which entitled us to discount on lunch or a few welcome drinks. Even with the sun down already, the aesthetic of the architectural design –with its clean and linear lines, juxtapositioned with the delicate floral lighting and glass fixtures and mosaic work in the water features were breath taking, and we were looking forward to a chance to review and appreciate the details of the interior design in the day time.
We stayed in a room with a king-sized bed, facing the courtyard, number 2857 to be specific. The room was extremely spacious, with small details that made it both comfortable and practical, for example the recliner in the corner, the presence of a desk and chair as well as a discreet blind that could either open the bathroom up to be visible from the bedroom or have the extra privacy if needed. There was ample cupboard space to unpack everything if needed to get rid of that "living out of the suitcase" feeling and the balcony had two upmarket but comfortable single seaters with a small coffee table, ideal for early morning coffees or evening sunset gazing.
The bed was absolutely perfect – the size, the mattress, the bedding, the linen – it was one of the most lavish spoils we have ever experienced. The fact that the bathroom consisted of both a shower and a bath – both spacious and elegant, made for a room truly catering for whatever preference guests could have. The high-end technology accompanying the toilet was also a first for us to experience and made for a more pleasant bathroom experience. Lastly small touches were made for guests, such as issuing of soft and lush dressing gowns, flip flops, bathroom accessories, lotions, soaps and shampoos as well as two beautiful carrier bags that could be used while staying at the resort. With my recent birthday just having passed, a piece of beautiful confectionary and a birthday card made me feel really special and spoiled on top of all the luxury and extravagance.

We had complimentary breakfast at The Café every morning and was astounded with the vast selection that was on offer – all cultures, tastes and preferences were accounted for, with ample quantities provided – and due to the layout of multiple stations, one rarely had to queue for food – and if needed, never lasting longer than a minute or two. The quality of the food was fantastic and the staff were courteous and friendly, eager to help with whatever request or inquiry we had. We also had dinner at The Café, where we were given the opportunity to order off the a la carte menu or from the buffet.
We also took the opportunity to order some room service while staying at the Mulia, and was impressed with the selection, efficiency of service and taste and presentation of the food. The fact that the option was there to set up a table for you in the room also made it a more comfortable experience.

We were thoroughly impressed with all of the staff that we came into contact with. We were impressed with the effort that they went through to ensure our every need was met in an unobtrusive but kind way. All of the staff members were fluent in English, which is not a small thing, considering our experiences in other areas of Bali. The housekeeping services were quick to notice when extra items in the room were needed and on one occasion even ensured that my valuables were locked away safely when I had forgotten to do so upon leaving for breakfast. Daily fresh fruit and complimentary water were given which was definitely a plus and there were clear notes left re: communication of washing of towels and bedding – we appreciated that an effort was made to not wash bedding every day to save some water and try to decrease our carbon footprint, but that you could also request to do so if there was a specific reason you might need this daily service.
It was truly inspirational to see what effort the staff put in to maintain the pristine premises of the Mulia. Staff members were seen raking loose sea grass from the ocean, sifting coarser pebbles from the beach sand and washing some gravel like stones in a decorative landscaped area. It is clear that only with the level of dedication and detail orientated focus, one is able to ensure the perfection and elegance that we found at the Mulia.
My husband and I spent some time at both the courtyard and seaside pools on the two days we spent at the Mulia. It was a lovely touch that fresh swimming towels were provided at the different swimming areas, meaning that we would not have to carry towels to and from the rooms and that towels that were used would be washed and or cleaned without you having to take responsibility for any of this. The deck chairs were fantastic – as comfortable as a day bed and long enough for my husband who usually ends up being too tall for these kinds of chairs.
I greatly appreciated that there was a traditional Balinese temple on the premises of the Mulia. I was so happy to have a look at the beauty one finds in the immensely detailed stone carving, rich history and fascinating stories one finds in such temples.
Our stay at the Mulia was an absolutely unforgettable experience and one that we are bound to remember for a long time. It is not surprising to see how well The Mulia is performing in international awards arena, and the excellence in service, presentation and luxurious details from beginning to end will definitely ensure that we will be recommending The Mulia as a place to stay when visiting Nusa Dua, Bali.
Reviewed by World Luxury Hotel Awards Representatives.
To book a stay at this beautiful Resort follow the link: www.themulia.com/mulia-bal
Mövenpick Hotel Izmir – a gem in the heart of Izmir…
The award-winning Mövenpick Hotel Izmir with its urban all-glass exterior is perfectly located in the absolute heart of the city. It is within walking distance of the business- and shopping districts and less than a kilometre from popular tourist sites like the Izmir Clock Tower and Kemeralti Bazaar. The stunning lobby with high-rise ceiling of intersecting golden circles also echoed on the floor are a symbol of the perfection, class and consistency that is Mövenpick.
The staff are highly professional and certainly uphold the traditional Swiss standards with a flair of true Turkish hospitality! They spared no effort in ensuring that our time in Izmir was well spent making the necessary arrangements for tours and activities in Izmir and the surrounds and were very well informed. We were welcomed by the lovely PR Manager, Merih Hasaltun, who ensured that every detail was perfect for our stay.
The hotel has 185 Rooms, including 36 Executive Rooms and 17 Suites. Our senior suite on the eighth floor had spectacular views of both the city and sea. The suite was spacious with lots of natural light and well laid out with two separate lounges and workspaces particularly useful for business travellers. The suite furthermore had two minibars, two television sets and other equipment that might be of use to corporate guests. The hotel also has several meeting rooms available.

For a sweet indulgence, there is the Swiss Cake Shop Mövenpick which sells delectable cakes and the world-class Mövenpick ice cream. For something more substantial, there is Margaux Restaurant which serves a buffet-style breakfast and à la carte lunch and dinner and the occasional themed set menu. A lot can be said about the creative cuisine that is presented by the chefs at Margaux Restaurant. We were treated to a world of flavours of both international cuisine as well as some wonderful interpretations of Turkish classics. Of particular note was the Börek (fine duck leg and pistachio in phyllo pastry) which simply melts in your mouth and the chef's signature Roast Aubergine Soup garnished with aubergine chips. The Beef Tenderloin was remarkably succulent and soft and served with a marvellous porcini sauce! All meals were beautifully presented by the chefs and well accompanied by our friendly waitress Ôykü who served us every night and ensured that that we got a good impression of what special dinners at Margaux Restaurant is all about.
For those aiming to keep in step with their after-work exercise routine, the Fitness Centre with its incredible view of the sunset hues and Izmir skyline will make the stress (and time) simply fade away. What better way to end it all off than with a dip in the heated pool in the Coral Health Club on the 11th floor or spend some time in the sauna and steam room. For destressing on a deeper level, professional massage therapists are available until 9 pm.
It is then no wonder that Mövenpick Hotel Izmir has been vote as Turkey's Leading Business Hotel.
Reviewed by World Luxury Hotel Awards Representative: Mrs. Signe Da Silva
To book a stay at Mövenpick Hotel Izmir simply follow the link: https://www.movenpick.com/en/europe/turkey/izmir/hotel-izmir/overview/
Mandarin Oriental Bodrum – home away from home!
Mandarin Oriental Bodrum was home away from home! This massive 60-hectare resort with 2 kilometres of private coastline is located in Cennet Koyu, appropriately translated as Paradise Bay. The sheer size of this resort is a proclamation that space itself is a luxury. Arrival was unlike any other – a ceremonial and warm greeting awaited us at the beautiful entrance courts which invite one inside to discover for yourself what lies beyond – and what a sight it was! The magnificent terrace with iconic tub chairs had a view that was breath-taking and it almost felt like one could observe the whole of the Aegean – 'land of the eternal blue'.
There are over 130 accommodation options in 33 different categories to choose from, including hotel rooms, suites, villas and apartments. Of note is the resort's 5 new green marble family villas at the secluded Olive Garden Beach. These villas range in size from 3-bedroom to an enormous 7-bedroom option and include a dining room, lounge, kitchen and private terrace with pool to make for the perfect family luxury experience.
Our dedicated butler, the lovely Ksenia who was both professional and very friendly, escorted us to our Sea View Suite complete with private pool. We were delighted with the lavish welcome gifts that awaited us – an abundance of handmade confectionary, fresh fruits, champagne and edible platter with golden fan beautifully fashioned entirely out of chocolate! The suite was very spacious with a reception area, large walk-in closet, lounge, shower (convertible to steam room), two toilets and huge open bathroom area with sunroof which could be opened and closed at the push of a button. The modern wooden interior had several moving walls that allowed us to create and compartmentalise the space as we wished. The bedroom was conveniently situated in the centre of the suite with access to the patio, bathroom and reception area. The lounge and bedroom each had a Bang & Olufsen Beovision TV, automated blinds, and an array of lighting features. Our private outdoor area was spacious as well, with a beautiful swimming pool clad in green marble, sun loungers and outdoor set. The cleverly designed valet box, which is simultaneously accessible from within and outside the suite, optimises privacy by allowing for the daily newspaper and other services to continue uninterrupted without the interaction of staff. The grand turndown service surprised us with something special every night, from a gold eye mask to an invigorating salt scrub. All of the above made for an experience of ultimate luxury!
Being the Group's first resort in Europe, this stylishly designed haven certainly set the bar very high. The architecture and interior design are masterfully done by Antonio Citterio Patricia Viel and Co. who in partnership with landscape architects Scape Design have more than succeeded in creating a resort that has been seamlessly merged with the natural habitat. The stepped layout of the resort perfectly complements the natural terraces and combined with the several eco-friendly planted roofs create the illusion of isolation amidst the thick, lush forest. MO Bodrum is very much concerned with the environmental impact and sustainability and boasts using desalinated and recycled water for irrigation and solar-panels in some parts of the resort. They have furthermore maintained much of the natural indigenous flora, including many very old olive trees that create a sense of time as if the resort has been imbedded in the ancient bedrock.
The modern design of the buildings incorporate local materials with natural elements of stone, marble and wood and the interiors are reminiscent of the oriental. The superb suspended staircase in the main building is a stunning feature and grand match of design and engineering. The descent to the spa-level reveals even greater interior beauty, with opulent floral wall pieces and a unique light feature that reminds of poppyseed pods bursting open.
The MO Bodrum Spa & Wellness offers an array of massage treatments from only the best of masseuses, Hamam, Fitness centre, Yoga, Pilates and indoor and outdoor pools. The spa overlooks a green valley and has a tranquil Spa garden. The indoor pool looks out into the woods, creating a sense of being at one with nature.
MO Bodrum also hosts a number of exclusive luxury retail stores, from the one-of-a-kind jewellery pieces by Cevan Biçakçi to one of only three Chanel stores in the world exclusively located in a resort. For those interested in something a bit more physically engaging, the resort offers a range of sports and watersports, from tennis and jogging trails to flyboard and scuba diving. Yacht excursions can also be arranged.
The resort has stunning sandy beaches as well as a wonderful pool area with three-tiered swimming pools where guests can soak up the sun. For some privacy, guests can rent a cabana on the seaside. They cater splendidly for the younger generation as well, with everything from arts, crafts and movies at the kid's club to supervised kids sports and a selection of other in-room amenities.
For dining, the resort offers eight fabulous options. The Mandarin Cake Shop presents a selection of handmade gourmet treats, pastries and other delicacies including their delicious Turkish Baklava which can be enjoyed with a splendid view of the vast blue! The glamorous Mandarin Bar is situated near the reception area and is the perfect place to enjoy a unique cocktail or savour the some of the premium liqueurs in style. For a party, there is Kai Beach Club – the only part of the resort that is open to the public on occasion. It has become notorious for hosting famous musicians and DJ's for events and parties with a chic Mediterranean setting. The Pool Bar & Restaurant serves an array of healthy, bite-size meals – we particularly enjoyed the Beef Tataki and Shrimp Caesar Salad and the fact that waiters brought around freshly squeezed juices to the poolside guests.
Blue Beach Club & Bar has a very relaxed atmosphere and is there to welcome you when you are sandy and salty having just come out of the ocean. They serve delicious lunches, specialising in Turkish mezzes including a variety of kebabs, pide and Lahmacun. Assagio is the resort's Italian restaurant, and probably has the best location of all dining options. It is magically situated on a pier extended over the water, where the ocean is beautifully lit up at night. They serve wonderful Italian specialities such as handmade pastas and pizzas, accompanied by some excellent wines. For traditional Turkish seafood, there is Balikçisi. We loved this relaxed, market-style restaurant with fish laid out on ice, nets strung up along the ceilings and peppers being dried on the walls. We were treated to an assortment of mezze starters, such as zucchini leaf Dolma with carrot puree to imitate the yellow flowers, stunningly presented on an urchin server. The Lobster main was also done splendidly and was evidently fresh. To top it off, we had the signature 'White chocolate soup' consisting of 70% high quality white chocolate presented in a mousse-like texture with raspberry sorbet that was divine! Kurochan offers a unique take on Japanese cuisine with some creative sushi and seafood dishes. They serve a noteworthy Black Cod that is marinated in Miso and tastes like sweet melted butter – an absolute must try!

Mornings at MO Bodrum are a magical time. The skies turn the most beautiful soft pink, setting the tone for a beautiful day which begins with breakfast at Sofra. Here, the open buffet style breakfast caters for everything that the heart desires, made fresh and on site. So fresh, that a selection of the breads and traditional Gösleme are made as you watch. A wide selection of Turkish cheeses and olives are served, thoughtfully identified by region and type – so much to discover and experience!
They say that your arrival at MO Bodrum is a gateway to paradise and so it was for us. Our stay MO Bodrum was one of discovery and new experiences; hospitality of an unparalleled kind; and luxury redefined. So, whether you come by plane (the airport being only 35 kilometres away) or rest your yacht in one of the resort's moorings, every moment here is time well spent. And perhaps, you might consider staying permanently by purchasing one of the resort's 125 private residences with private entrance and beach.
When our time came to an end, we left feeling like family and it was like waking up from a dream, wishing only that we could go back to sleep. All that remains is to say that "I am a fan!"
Reviewed by World Luxury Hotel Awards Representative, Mrs. Signe Da Silva
To book a stay at this magnificent property follow the link: www.mandarinoriental.com/bodrum/paradise-bay/luxury-hotel
NG Afyon Wellness and Convention – an oasis in the desert…
NG Afyon is quite literally an oasis in the dessert – a welcome retreat with enticing pools, gardens and luxurious delicacies!
The region is famous for the number of hot springs that burst through the earth's surface and NG Afyon certainly showcases this in a unique way. With no small number of different pools, at different temperatures, both in- and outdoors, the emphasis is on the importance of sustained thermal water treatment as a preventative measure rather than simply a cure for ailments. Furthermore, the spa and wellness areas cater for everyone with not only specific sections for men and women, but also a children's area and family area. Apart from the pools and jet pools, there are hammams, saunas, steam baths, tepidarium and an outdoor waterpark for the children – the perfect getaway for the whole family!
After some 'aqua time', enjoy a healthy drink and snack at the Aliva Café's little greenhouse, and get that extra oxygen boost; or unwind poolside or in one of the hotel's many lounge areas, bar and even patisserie. The hotel is decorated in the classical French style yet gracefully incorporates the traditional ceramic and tile culture that the surrounding regions are known for. The proud collection of ceramic displays in the lobby were most interesting and enlightening
The hotel has a very big capacity. Yet despite the number of guests, NG Afyon has managed to maintain the luxury of space and privacy and the property itself is large enough that one never feels crowded. As much as NG Afyon caters perfectly to its family-orientated guests, the hotel is also very well equipped to receive business-orientated guests. It has several meeting venues, convention centre and even offers Business Wellness and Corporate Wellness packages. It is furthermore well situated, being only a 5-minute drive to the city centre, which is easily accessible by car.
Our suite had a luxurious bath which uniquely had water directly supplied from the mineral-rich thermal springs found on the property. The varied pillow options ensured a good night's rest.
The breakfast buffet presented a huge variety of foods, in all forms and catering for all diets. It was a delight to try the many traditional Turkish foods that were on offer before heading for the pools for yet another day of blissful water wellness! NG Afyon is truly an amazing
Reviewed by World Luxury Hotel Awards Representative Mrs. Signe Da Silva
To book a stay at this wonderful property follow the link: https://nghotels.com.tr/ng-afyon/
The Bodrum EDITION – the place to see and be seen…
Friendly staff awaited us in the light and airy reception area adorned with palm trees and cloaked with white linen adrift in the ocean breeze. The abundant green olive groves along the walkways offset by the dry-stone walls made for a sense of antiquity. Gracefully balancing ancient Mediterranean design elements with a modern minimalist style created a gateway from the past to the present – a snapshot in time; a space where hours of lounging pass by freely and at the same time a place of eager expectancy.
The continuous views of the Aegean starting from the reception area all the way down to the beach is the crown feature of this 5-star property. The 108 rooms, lofts and villas cascade down the slopes with cobbled staircases running in between them.
The resort is ideally situated close to the Yalikavak Marina at the western point of the Bodrum peninsula with its vibrant night life and boutique retail stores. Perfect summer days consisted of lazing at the golden, sandy beach with a cocktail in hand or taking a dip in the turquoise water. The stunning high-rise infinity pool seemed to flow directly into the ocean, enabling one to quite literally lean over the blue horizon. The pool-side hammocks made for hours of blissful daydreaming.
Our room was elegant and modern, furnished in light and neutral colours. The finishes were neat and uncomplicated. We had a lovely patio with ocean view that included our own olive tree. The light bathroom had a luxurious tub. The room service staff were particularly attentive and friendly, ensuring our every need was taken care of.

Breakfast at EDITION's Kitchen Restaurant is somewhat of a ritual – an experience that should be savoured and not rushed, to be enjoyed any time at leisure between 7 am until 4 pm complemented a the splendid setting with views of the Turkish Riviera. It is a full house demonstration of what an authentic, Turkish breakfast experience is all about – an assortment of around 16 elegantly curated small plates and portions of all things traditionally Turkish, including olives, cheeses, fruits, vegetables, honey, homemade butter, homemade cream, traditional baked goods and much more to share and enjoy. Added to this then is your choice of choice of eggs, or healthy muesli, yogurt and fruits. Not to be missed are the 'elements breakfast shots' and very creative cold pressed juices which are very healthy and nutritious. Keeping up with the trends is the Ministry of Coffee which presents a wide selection for the discerning coffee connoisseur, boasting even a its very own Kyoto-style slow drip cold coffee brew. This method extracts the essential mineral components from the coffee beans through a process lasting several hours, resulting in a rich full-bodied coffee that is exquisite. It goes without saying that there is no rush this side of the Aegean.

No day would be complete without a visit to the spa area. The beautifully tranquil all-white spa has water flowing along the walkways and is as enchanting as it is relaxing. The spa is divided into a men's and women's section, each with hammam, dry sauna, steam room and salt room where one can unwind and rejuvenate. At the end of it all is a powerful jet pool for a relaxing aqua jet massage. The massage treatment areas are open-air and cater for couples massages as well.
Dinner at BRAVA was a refreshing experience! Chef Diego Muñoz showcases a daring yet perfectly balanced menu which combines innovate flavour combinations with nostalgic Peruvian tradition. Be sure to save room for dessert: surprising offerings such as the Caramelized Eggplant, Passionfruit & Coconut Cachanga dessert are sure to shift your culinary boundaries.
Life is truly beautiful at The Bodrum EDITION.
Reviewed by World Luxury Hotel Awards Representative: Mrs. Signe Da Silva
To book a stay at this beautiful property follow the link www.editionhotels.com/bodrum
Sintra Marmoris Palace – a truly royal experience…
The Marmoris Palace Hotel is located in Sintra, 38 kilometres from Lisbon city centre and a quick 30 minutes from the international airport.
The charming building – previously a private residence and converted into a boutique hotel two years ago – is surrounded by lavish trees and a huge private garden. Situated on top of a hill, it is overlooking the historical town centre with beautiful views of the castle.
Being a small hotel, it offers guests a truly personalised experience. All from the reception and welcoming drinks to the check-out was a great experience. Our host also gladly assisted us with recommendations for dinner, where to shop for a few necessities that we needed and ideas to explore the town.
The hotel has nine individually decorated rooms – four in the main building – all of which have breathtaking scenic views of Sintra – and five in an outbuilding a few metres away, all offering privacy and direct access to the garden. The massive en-suite rooms which are beautifully furnished speak of royalty and have all the amenities that you can think of.
The buffet breakfast has a huge selection of fruit, cereals, pastries and hot food. Taking into account that Marmoris is a small hotel with a limited number of guests each day; this was hugely impressive.
Beautiful shaded gardens create a calm and relaxed atmosphere and because of the huge premisise it is situated on and surrounding gardens, the hotel offers a totally quiet and noise-free environment to relax in. An indoor swimming pool is also available to guests with a retractable roof overlooking castle hill.
Although my stay at Sintra Marmoris Palace was short, it is truly one of the most exquisite properties I have ever visited. From the perfect location to friendly staff, scrumptious food and attention to the finer details, Sintra Marmoris does not dissapoint and I highly reccomend a stay here if you are visiting Sintra.
Reviewed by World Luxury Hotel Awards Representative
To book a stay at this exquisite property follow the link: www.sintramarmoris.com
Hillside Beachclub – paradise found…
The Hillside Beach Club is about an hour's drive from the nearest airport in Dalaman but our luxury transfer with in-transit WiFi, refreshments and a booklet giving the daily scoop of entertainment made for a blissful journey.
Upon entering the property gates high upon the hill, the cove in which the resort lies can been seen in all its splendour with steep slopes that are rich with indigenous flora and fauna. The resort boasts 4 private beaches: Main beach, Pasha Beach, Serenity Beach (which is accessible by either a short walk or a colourful water ferry) and Silent Beach (complete with mini-library for ultimate unwinding). If you're looking for something a little less salty, there's always the huge overflow pool with stunning views of the ocean. 'Paradise Found' is definitely an apt description to this resort!
The rooms nestle comfortably in the forested slopes, ensuring that most rooms have spectacular sea views and there is even a funicular for those who choose to avoid using the stairs. Our Superior Room had a roofed balcony with outdoor lounge set. The bedroom had a television, music docking station (in case you happened to miss your home playlist too much) and all the basic amenities, including a walk-in closet. Bathroom access was via the balcony and only separated by a bamboo curtain to let in the ocean breeze. At night we left the balcony doors wide open to take in all that Hillside had to offer.

Most of the amenities are open-air and lavishly clad in Bougainvillea creating a relaxed, beach-cabana look and feel. The light atmosphere makes one simply want to kick off one's shoes, sit back and soak in the sun care-free! Being 'full board+', this resort is a culinary festival that takes resort dining to a different level. Pasha Restaurant serves a Mediterranean menu with beautiful views over the ocean. At Main Restaurant, buffet style dining gains a whole new meaning, with over 80 different kinds of desserts served at the special Turkish dinner buffet on Sundays – a feast not to be missed!
After sunset the air turns rife with excitement and there is always something festive going on – whether it's a theatrical performance in the resort's very own amphitheatre or the DJ's at Beach Bar pumping up the beat. A special guest performance by local music professor Errol Erdine and family was particularly memorable being a mixture of classical, jazz and Latin-American music – all performed on the grand piano on the terrace of Abacco bar with its distinctly Byzantine-style domes. There were special romantic open-air movie nights held in the nearby deserted ruin village of Kayaköy. On one occasion, local craftsmen set up their stalls near the pool area for a private night-time market; on a different evening, professional stargazing equipment was set up so that we could discover the night sky in a way we had never seen before. With so much going on, every waking hour was filled with wonder and excitement!
The resort has two spa areas, namely the Sanda Spa and the Sanda Nature Spa, the last of which is hidden away in the forest near Silent Beach where your open-air massage treatment will transport you to a different world. There are all kinds of on-site facilities on offer, including an array of sport fields and courts, a water sport division, diving centre, creative art classes and a variety of boat tours depending on the day of the week. For all activities off the premise, there is a helpful 'Hillside Outside' office which can make recommendations for all kinds of activities from hiking and biking to shopping. The resort also offers a complimentary shuttle service 3 times per day to the town of Fethiye and back, which is close by and famous for its Tuesday bazaar and wonderful waterside boulevard.
The secluded location, layout of the resort and host of activities available make it a popular destination for families. There are several lifeguards, friendly and caring staff and lots entertainment to keep the children busy and happy, all in a safe environment.
Hillside Beach Club certainly lives up to its motto of 'Feeling good'!
Reviewed by World Luxury Hotel Awards Representative Mrs. Signe Da Silva
To book a stay at this spectacular property simply follow the link: www.hillsidebeachclub.com
A relaxing weekend away at Kievits Kroon Faircity Hotel…
Upon arrival at Kievits Kroon I was greeted by the very friendly security at the big swinging gates to what looked like an exclusive and very pretty estate in the middle of the bush. The guards signed me in and directed me to the reception building. Driving into the estate it became clear that this was not like any normal hotel. Instead its more like a resort, with pretty trees and well-kept green lawns under which people were having picnics. It really did look like a place you can come to and just relax!
I parked my car and walked to the reception building where I was greeted by another very friendly staff member behind the reception counter. She informed me that I will be staying in one of the two VIP suites and I was instantly even more excited to see what Kievits Kroon had to offer. My room was not ready yet, but It turned out well as they had an opening for a full body massage immediately at their well renowned spa.
While they were getting my room ready, I enjoyed a wonderful Pinotage full body massage. Having been up since 4am to catch a flight from Cape Town, renting a car at OR Tambo and then driving 45min to the hotel, this was just what the doctor ordered. There were some snacks, juices and fruit flavored water waiting for me as I entered the spa. The lady behind the counter was again super friendly and made me feel right at home. I was very impressed with all the staff from all the different departments. My massage was amazing and I felt refreshed afterwards. I also had access to the jacuzzi, sauna, steam room and heated pool.
I checked into my room which as it turns out is more like a small apartment on the outer parameter of the estate. Completely private and with its own parking space. The room had a jacuzzi bath, two TV's, a lounge area and a spacious room. All inside a beautiful Cape-Dutch stile building. There were also two outside porch areas where you can sit and enjoy some of the complimentary sherry provided in the room. Right next to my room was a helipad. Being a helicopter pilot myself, this really excited me. I love to fly to all the different wine farms in and around Cape Town and I'm always looking for places offering those with the means to do so an opportunity to skip traffic and fly in. I was really happy to see that here in Pretoria you can do just that at Kievits Kroon.


Breakfast the next morning was a full buffet. And I do mean full. From scrambled eggs to oysters. Anything you could think of for an amazing breakfast was on the spread. I really enjoyed my breakfast and decided to head back to the room for my costume and go relax by the pool area.
The restaurant was fully booked when I arrieved, so the waiter asked me to sit at the bar area next to the restaurant and they would serve me there. I didn't mind this at all as it was really comfortable sitting outside and the view of the beautifully kept green lawns and big trees was just great. I ordered a chicken wrap and something to drink. The weather was warm and the view was amazing.
In conclusion, Kievits Kroon is a beautiful and peaceful venue for escaping the rushed city life. Whether you are looking to stay for a weekend, have a business conference, go for a spa day or just have a romantic picnic with your better half, Kievits Kroon really does offer it all.
Reviewed by World Luxury Hotel Awards Representative
To book a stay at this beautiful property simply follow the link: www.faircity.co.za
Richmond Nua Wellness Spa … A truly special Spa destination …
Richmond Nua Wellness-Spa is situated on the scenic edge of Lake Sapanca, which is less than 2 hours' drive from Istanbul and a popular choice for spa and wellness resorts in Turkey.
Being the pinnacle of spas in Sapanca, Richmond Nua spares no expense to ensure the ultimate wellness experience. The reception area immediately sets the tone with uncluttered and modern finishes that echo the emphasis on revitalisation, while the recurring theme of flowing water calms the senses – the water flowing inside the building through the dinner area is a great design feature. The common areas are simplistically yet stylishly decorated with a heavy emphasis on natural elements like wood and stone.
Our spacious Q-level suite was the epitome of luxury – a private deluxe-sized spa jacuzzi and separate lounge room with private tanning balcony overlooking the serene lake. The huge all-marble bathroom recreated the luxury feel of a true Turkish hammam in the privacy of our own suite. Complete with luxurious queen bed and two TV's, this truly made for a relaxing stay.
Our stay was complemented by the friendly and attentive staff. All of our needs were meticulously anticipated and attended to by Guest Relations Agent Firuze Hidayetova, who graciously guided us through everything that the resort and surrounds had to offer.
Richmond Nua is the first and only destination spa in Turkey as well as the Global winner in the category of Luxury Destination Spa 2019. Boasting a total of 15 spa experiences that are recommended before treatments, the spa is a dream for even the most discerning spa goer! Starting off with a traditional Turkish Hammam, the following series of curated water, steam, mist and temperature therapies awaken all of your senses. Amongst our favourite of the 15 experiences were the salt-steam inhalation therapy, menthol misting experience and ice grotto. Ensure that you allow ample time for this sequence of rituals, the entire routine of which could take between 3 and 4 hours. After our first full sequence, we felt revitalised and our skin was soft and glowing – 'Sanus Per Aquam' in the true sense of the word!

I was treated to a much anticipated 'Signature Ricmond Nua Massage' by the skilled hands of Spa Manager Birol Paşalıoğlu who has approximately 30'000 massages, as well as various qualifications under his name. This exclusive massage created for Richmond Nua is tailored with specific techniques and therapies that revolve around the guest's needs and left me feeling entirely revived after this hour-long treatment.
Richmond Nua offers wellness in all areas including the cuisine – a unique Beautyfood Menu is specially designed to optimise healthy results. A standard à la carte menu is also offered at the romantic lake-side seating area. The restaurant undoubtedly presented the best meat Köfte and the tender-soft beef fillet was impeccable. The 'Warm Chestnut Cake' is an absolute must! There are delicious options for guests on the wellness program, including dessert. The breakfast buffet showcased a wonderful spread, ranging from fresh fruits, vegetables, dried fruits and nuts that made for blissful clean eating to traditional Turkish favourites as well as the more classical breakfast offerings.
This is one destination spa that is well worth the journey!
Reviewed By World Luxury Hotel Awards Representative Signe Da Silva
To book your next Spa holiday follow the link: www.richmondnua.com
The Privilege Hotel Ezra Beach Club- Koh Samui – an unforgettable experience…
My husband and I were so privileged to enjoy a 3-night stay at this property on our honeymoon in July 2019. When we arrived at Koh Samui Airport, there was a complimentary air-conditioned hotel pick-up transport service waiting for us at the arrivals section. The location is further enhanced by a close proximity to pharmacies, convenience stores, markets etc, as well as scooter-rentals available on-site.
Upon arriving at the hotel, they already started spoiling us with a refreshing coconut welcome drink to cool down whilst being friendly greeted by all the staff as if we were part of the family. They offer several types of accommodation, from pool access rooms, sea view villas, penthouse suites, to a luxury presidential suite and many more. For two nights we stayed in a pool access room and the last night we enjoyed staying in the presidential suite. They spoiled us with a beautiful towel and rose petal representation in our room, seeing that is was our honeymoon.
The pool access room was conveniently located only meters from the main 40-meter swimming pool, only separated by some of the most comfortable reclining chairs. The pool has spectacular views of the beach and boasts its own pool bar that certainly creates a unique beach club experience! Apart from enjoying the swimming pool, going for a spa treatment, sipping cocktails at the pool bar or defeating your partner with a game of ping pong, the beach is also just a few steps down from the pool area where you can relax amongst the surrounding tropical palm trees. Large inflatable pool toys are left in the pool for guests to enjoy and children to play with
Our night in the presidential suite, was certainly the best night of our stay. The room boasted a glass bathroom, tasteful art and a very large and comfortable couch. The owner hosted a pool party that included cocktails and an exciting fire dance on the beach, which was great fun! After that, we enjoyed the Jacuzzi bathtub on the deck of our suite, with the most beautiful views over the ocean and surrounding islands, with a glass of champagne in hand. It was so special and romantic.
This was the best 3 days of our Honeymoon in Thailand! We would definitely recommend the Privilege Hotel Ezra Beach Club for anyone when travelling to Koh Samui.
Reviewed By World Luxury Hotel Awards Representative Ms. Jana Matthee
To book a stay at this incredible hotel follow the link: www.theprivilegehotels.com
The Robinson Club Khao Lak – the perfect family holiday…
If you are looking for an ideal family holiday getaway, filled with entertainment for all ages, this is the place to be. The Robinson Club Khao Lak in Thailand is an all-inclusive resort, offering 4 restaurants, 5 bars, 6 swimming pools, a spa, gym, water sports, tennis court, golf course as well as its own private beach.
We enjoyed a 3-night stay at this resort in July 2019 and it was the ideal relaxing break away. As there is so much to do, we didn't have the need to leave the resort throughout our stay. The management team of the resort strive in connecting with the guests and therefore have daily activities planned for guests to partake in.
We enjoyed most of our meals at the main restaurant, and what a treat! It was buffet style meals, 3 times a day with a wide variety , varying daily to suit every culture, pallet and desire. The resort is quite big and even with our map, unfortunately we did not get the opportunity to see all the types of accommodation they offer such as their villas, bungalows and suites, but we could tell by all the guests staying at the resort, that there is abundant accommodation available.
Some of the activities they offered during our stay were archery courses, cooking classes, pool action water boxing, water polo, beach volleyball, soccer and many more options. One of the nights we attended an all-white cocktail party just before dinner. There were delicious aperitifs as well as entertainment that we enjoyed whilst getting to know other guests staying at the resort. While the adults are being entertained, they have the Roby Club which is their signature Kid's Club offering fun, creative and active programs to keep the children amused.
We were really impressed with the service of the staff members as they were very well-informed with arranging transport services, renting of motorbikes to explore the surrounding villages, organising snorkelling and diving trips etc. We would certainly recommend this resort to all families travelling together to Thailand.
Reviewed by World Luxury Hotel Awards Representative: Jana Matthee
To book a stay at the The Robinson Club Khao Lak simply follow the link https://www.robinson.com/de/de/cluburlaub/thailand/khao-lak/club-details/
The Pavilions Phuket – what a treat!
Upon entering this hidden gem, you will immediately fall in love with not only the surrounding mountain and ocean views, but mostly with the staff members and their impeccable service!
We stayed for 2 nights on our honeymoon in July 2019 in an absolutely beautiful ocean view villa with our very own private pool, which was very romantic. They spoiled us with a beautiful towel and rose petal presentation on our bed in the villa as well as a complimentary 15-minute foot massage. This resort is very private; located about 25 km away from the hustle and bustle of the busy Phuket town itself which makes it even more peaceful and ideal for an intimate break away, but with this said, they also offer daily shuttle services to nearby shopping centres, beaches etc so guests can enjoy the best of both worlds.
The resort offers 3 restaurants namely; 1- the Plantation club, which focuses on re-interpreting classic Thai dishes & utilising locally sourced ingredients, whilst enjoying the breath-taking views of the surrounding ocean and mountains. Guests can also enjoy their daily afternoon tea at the library area next to the Plantation club; 2- 360° Bar with its ideal sunset experience, creative drinks, tapas entertainment and many more; 3- The Firefly Restaurant surrounded by a tropical garden and bordering a 60-meter freeform pool, offering a wood-fired grill delivering modern Mediterranean BBQ, authentic Thai specialities and is also the place to enjoy a relaxing breakfast.
Guest can enjoy yoga and fitness classes at the gym, as well as traditional Thai massages at the spa that is surrounded by a relaxing swimming pool, tropical plantation and a Khoi fishpond to help you relax even more.
We would highly recommend this resort for those in need of a relaxing break away from the everyday life.
Reviewed By World Luxury Hotel Awards Representative Jana Mathee
To book a stay at this beautiful property Click Here: https://www.pavilionshotels.com/phuket/
SOFITEL Legend the Grand Amsterdam – an unforgettable experience…
SOFITEL Legend the Grand Amsterdam certainly makes a grand first impression which was upheld throughout the entire luxurious experience of our stay.
We received a warm welcome on arrival with the full attention of the Concierge who assisted us to make the most of our visit by immediately booking us on a boat tour for the next day which conveniently left from the canal directly outside the hotel – this was definitely a highlight of our Amsterdam experience.
As the name suggests, the hotel exudes grandeur, with a stylish interior reflecting modern influences, contrasting perfectly with the obvious history of the city. We took a historical tour of the hotel and discovered many interesting facts, including that many years ago the building was 2 separate convents alongside each other, the buildings were eventually combined and the hotel was also the City Hall for a number of years.
The hotel offers a perfectly situated location, within easy walking distance of the Central train station and right at the heart of Amsterdam's major attractions.
The gardens of the hotel are a peaceful haven in the heart of a busy city, immaculately maintained with great attention to detail, amongst all the greenery we spotted trees full of beautifully ripe apricots!
The well known, Michelin star restaurant, Bridges was outstanding for daily breakfast, the best we have ever experienced. The newly opened Oriole garden bistro, offering indoor and outdoor dining, provided exceptional taste experiences after a long day exploring the city.
All amenities are provided from luxury spa to gym an d an indoor swimming pool and sauna.
Sofitel Legend the Grand Amsterdam is certainly an unforgettable legend.
Reviewed by: World Luxury Hotel Awards Representative Linda Cooper
To book a stay at this magnificent property simply follow the link: www.sofitel-legend-thegrand.com
Orbi Palace Hotel
Orbi Beach Tower Hotel
Emporium Hotel South Bank
Cristal Amaken Hotel
MUSA Lago Di Como
test
Lagoona Beach Luxury Resort & Spa
Chiang Mai Marriott Hotel
Shahdag Hotel & Spa
Renaissance Dhaka Gulshan Hotel